Here's three of my favorite things from the new mini catalog. They may surprise you… or maybe not.
Flowering Fields 12″ x 12″ Designer Paper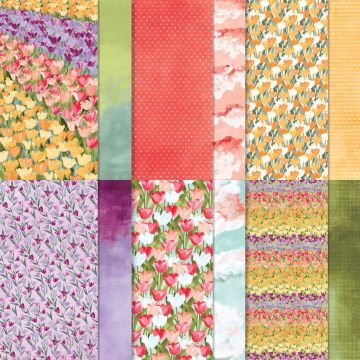 The 12″ x 12″ Flowering Fields Designer Series Paper is hands down my favorite paper collection from the Jan-June 2022 Mini Catalog.
The paper collections by Stampin' Up! are hand designed by their talented artists and then digitized. Whoever created this collection really outdid themselves! The stunning designs and colors are just exquisite. And they can stand on their own as the main focal point of your handmade card designs… just add a sentiment! Okay, and maybe a few butterflies, too.
Faux Sea Glass Shapes
The Faux Sea Glass Shapes are probably my absolute favorite from the entire catalog! Crazy, right? Simple pleasures. They're such small things, but these little guys make me so very happy. What can I say? Don't be surprised if you spot these on a few of my projects in the coming weeks and months… just as soon as I order a bunch more. 🙂
If you prefer more of the stone look, you can always grab the Pebbles Enamel Shapes.
Oceanfront
If you love the water like I do, you really need the Oceanfront stamp set. You can make the most tranquil beach scenes with these images in a snap! I featured a really cute clean and simple handmade card in this month's newsletter (to see it you can subscribe here). You might want to add the darling sand fence like I did. It's included in the Horizon Dies, but if you purchase the On the Horizon Bundle you'll save 10%.
Did three of my favorite things from the new mini catalog surprise you? What would you choose as your favorites? I'd love to hear from you. 🙂
We've just started our annual Sale-A-Bration, where you can select a free item for every $50 or $100 you spend before shipping and tax. Check out this cute birthday card I made with one of the free sets.