From the first minute I saw the Stampin' Up! catalog I knew I was hooked!  Over the lunch hour I called about the Stampin' Up! business opportunity, without ever having been to a show, and I've never looked back. That was over 25 years ago! Where does the time go?
I've always loved crafts and being creative, and I enjoy sharing through the art of rubber stamping and scrapbooking. When I saw that catalog I knew a good thing when I saw it, and I went for it.
As a busy single parent of a four-year-old boy and working an exhausting full-time job, I really didn't need another thing.  But I have to say I got so excited I could hardly sleep waiting for my kit to arrive! When it finally did I was never without a catalog (they give you a bunch in the kit).  I carried one with me EVERYWHERE! I'm sure I had that first catalog memorized front to back that first year.
Why would a busy single parent with an exhausting job take on something like this? Well, I thought why pay to take classes at the local stamp store when I could sign up with Stampin' Up! and get training for FREE (basically free classes) and get a discount on my purchases! So that's what I did, never planning on really working the business or anything. Now, 25 years later, I can't imagine NOT being a demonstrator. I always say it's going to be my job in retirement!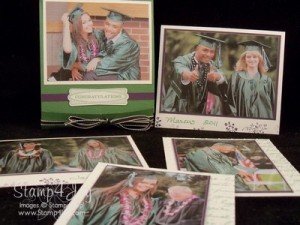 When my son was younger he used to help me at my workshops and craft fairs.  He loved to stamp!  Those are fond memories.  Of course, he's older now and it's not as "cool," but every now and then he will make a card (or ask me to).
I have met so many wonderful people through this business, other demonstrators and customers, who have truly become some of my closest friends.  I would say that small investment I made over 25 years ago has paid me back immeasurably in smiles and friendships, travel, supplemental income, experience in learning how to run my own home-based business, and — oh, yeah — I learned SO MUCH MORE than I ever could have by taking a stamp class here and there.
My son is grown and on his own now, but I am still with Stampin' Up!  I love being part of such a wonderful company that inspires my creativity and allows me to share the joy of stamping with others. Plus, it's cheaper than therapy!  🙂
Thank you for letting me share my story with you.  Contact me if you'd like to begin creating your own Stampin' Up! story.