If you're like me, you're always on the lookout for tools for better craft room organization.   I've found the perfect solution with my modular pieces from Stamp-n-Storage.  And now you can buy them as starter kits and save money, which wasn't available when I purchased my storage pieces.
I've had all manner of craft spaces, from a dedicated large loft that also served as my classroom, to smaller rooms, to a portion of a room.  Since downsizing, and then later my son coming back home, I now have virtually no "dedicated" space other than cubbyholes and shelves here and there.  All along, my Stamp-n-Storage craft organizers have managed to adapt  beautifully from one setup to the next.
I use a folding craft table as my work space these days.  Now that I am extremely limited on space, I'm finding these modular pieces are more beneficial than ever before, while they help keep me organized and able to craft easily.   It seems the less space I have the more important they become.
The picture above shows my Ink Pad, Marker, and Refill Combo Holder, with 60 slots to hold all my Stampin' Up! colors and then some.  You can use the top as a shelf for extra storage, which I did before getting my ribbon rack.
My Ribbon Holder on top I had customized to fit along the length of the top of my ink pad combo piece.  It comes with a couple dividers and a display shelf, which is being used on the right to hold my crock full of scissors, adhesives, etc.   I'm a little low on ribbon right now, so I'm also using my ribbon rack to store my buttons and other trinkets that come in the round containers.  The shelf has a magnet strip across the inside front to hold the dividers in place.  If you add some magnets you can use it to display cards along there, too.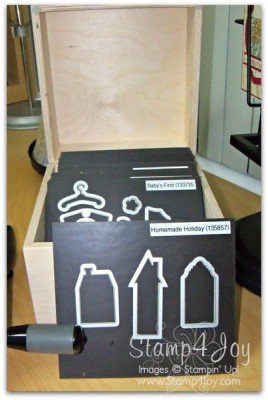 I think my most favorite of all is the Wafer Die Storage with Magnet Cards.  No longer do I have to search through all the plastic sleeves, pull out the framelits, and fight to get them off the taped insert.  Now they're neatly organized and so easily accessible.  Every time I use it I exclaim, "I love this!"  No kidding. 🙂
I added a label to the top of each magnet card and filed them in alphabetical order.  The medium size is the one featured here, and I ordered 40 magnet cards.  I think it will hold up to 60!  The large size is double the length of the medium.
I removed it from the shelf just to take these photographs.  Normally I don't move it.  I decided to get it with the lid to keep the dust out, and I made sure I had a space so I would be able to open the lid all the way and wouldn't have to pull it off the shelf because it's about 11 pounds with the magnet cards.
The magnet cards are more than just a magnetic sheet.  They're backed with something to make them stiff so they stand up and don't flop over.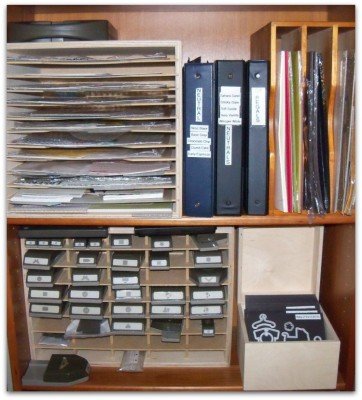 Here are a couple pictures showing my wafer die storage closed and open where it normally sits, right next to my Lockdown Punch Holder.  (The 12×12 Scrapbook Paper Holder is on the left on the shelf above.)  Easy access.  I love it!
Check out all the cool craft room organization ideas they offer at Stamp-n-Storage.  And be sure and tell them I sent you!
Questions?  Just ask!
Do you use any Stamp-n-Storage craft room organization tools?
Tell us what you have and how you like it!