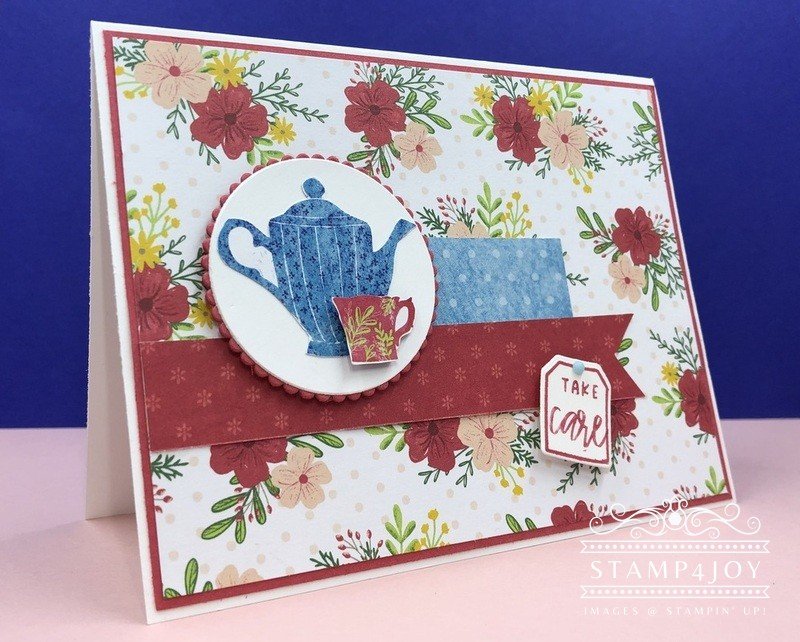 I wanted to make a handmade card for a friend of mine who I recently found out is having some major health issues.  Hopefully this will cheer her up until I have a chance to visit.
The vibrant, cheery colors come from the new 2022-2024 In Colors.  I just love them!  I really just focused on the paper patterns included in the Tea Boutique 6″ x 6″ Designer Paper collection (158659). 
It's easier to pull different patterns from the same collection because they are designed to work
together.  I used the flower pattern for the background, a couple of the dotted patterns for the flags, and then fussy cut one of the teapots and mug from a couple of the others.  I know some people don't like to fussy cut, but it was pretty quick to do since it was mostly rather straight lines.  And the Paper Snips makes it so easy to do!  Just remember to turn your PAPER, not the scissors.
And here's a hint:  layer the cut out pieces over white cardstock and you won't have to worry about the handles being awkward over another color or pattern. 🙂
I made this handmade card for a friend of mine going through some things, so I wanted a sentiment that would work but wasn't too large.  I stamped the little tag in Sweet Sorbet ink, and then used my Sweet Sorbet Marker to ink up a couple of the words of the sentiment to customize it.  This is a great way to extend your stamps and make them even more versatile.
Here's a video I made to quickly show you what I mean.  I did forget to mention to color the stamps using the side of the marker tip, not the pointy end if that makes sense.  That way you won't damage your brush tip.