Would you like to make some easy shaker cards? Today's Christmas Card Sunday project is a snow globe shaker card featuring the Snow Globe Scenes Dies and the gorgeous Feels Like Frost Specialty Designer Paper. You can find both of these in the Holiday Catalog.
I drew around the outside of a Snow Globe Shaker Dome on the back of a section of a Silver Foil Sheet. Before cutting it out with my Paper Snips I used the globe die to cut out the center, using the pencil drawing as a guideline to keep it even. I thought it would be easier that way to line it up. This is what I used to finish off the snow globe from the front.
A portion of a dark, snowy scene from one of the patterned papers was used to create the backdrop for the trees and the church "inside" the globe. I added about 3/4 of a teaspoon of Ice Stampin' Glitter to create the snow. Beautiful!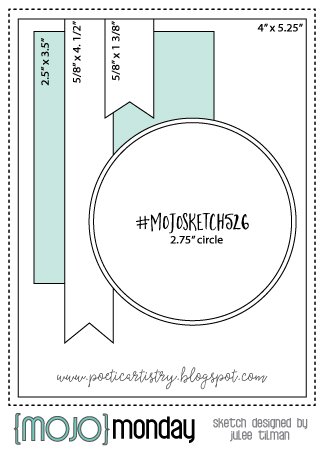 The Christmas card sentiment actually came from Toile Christmas, also found in the Holiday Catalog. I somehow misplaced the die to cut it out from the Christmas Cardinal Dies, so I again used my Paper Snips.
NOTE TO SELF: Put your dies back as soon as you're done using them! Who knows where it ended up. 🙁
The starting point for this Christmas shaker card idea was the sketch you see on the right. It's fun using sketches to kick off your creativity when designing your handmade cards. Why not give it a try yourself?
These easy shaker cards are so much fun to make! If you're interested in more ideas you can check out another snow globe shaker card HERE.
The products used on this snow globe shaker card are shown below.