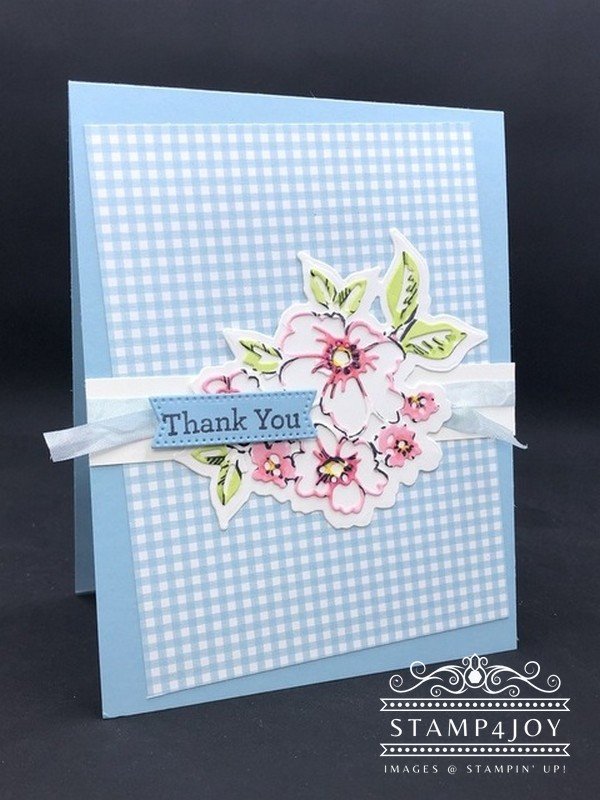 Let's make some DIY thank you cards for today's Manic Monday Challenge.  I just love this sweet and delicate card design.
What is the Manic Monday Challenge?
I came up with Manic Monday as a challenge for a month at the beginning of the COVID era.  You can check out the original projects below:
I decided to revisit this fun idea for 2023.  I thought it would be a good way to show how easy it is to come up with ideas for your card making layouts 
and as a means of encouraging each other in our passion. 
Use the samples in the Stampin' Up! catalogs to inspire you.  You can just duplicate them or use them as a starting point.  I'll reference a project from one of the current catalogs each week.  Then I'll create a similar design to show how easy it is to create DIY thank you cards or any handmade card idea you need.
Today's Project
This cute thank you card design originally started with the project shown in the far left corner on Page 8 of the January – April 2023 Mini Catalog (shown in the photo on the right).
The floral focal image is from a project I was making a while ago.  I had stamped the flowers from the Hand-Penned Petals stamp set, but when I cut it out I used the wrong die from the Penned Flowers Dies.  
I thought it was really pretty so I saved it thinking I'd use it for another project in the future.  Well, today is the day!  
I layered it over the sold die cut from white cardstock, and used that in place of the large scalloped circle in the reference photo.
The card base is Balmy Blue, and the upper layer is a pattern from the Country Gingham 6″ 6″ Designer Paper shown on Page 9 of the same catalog.  I also "dyed" the ribbon with my Balmy Blue Stampin' Blends to coordinate.
The card greeting came from Beauty of Friendship, and I cut it out with the smallest pennant die in Stylish Shapes.
Check out last week's Manic Monday project by clicking this link:  Baby Card Ideas