If you're a paper crafter you likely have a stash of paper odds and ends that are too small to use for bigger projects.  Don't toss them out just yet.  With a little creativity, you can start crafting with paper scraps to make some stunning handmade cards!
Last week I gave a few tips and techniques to create beautiful cards on a budget.  One way to elevate your scraps is by using stamps and dies. These versatile tools allow you to create unique designs that will impress your recipients.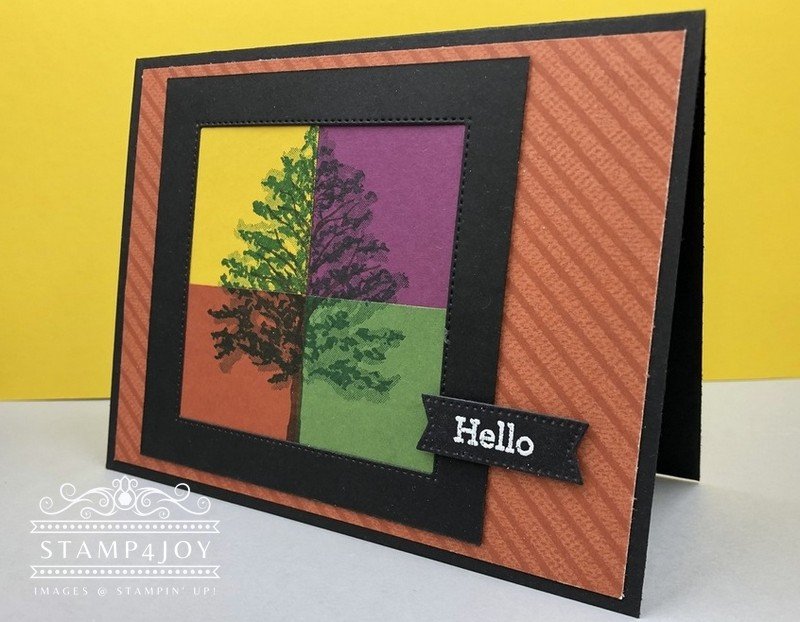 Today's Card for Easy Papercraft Friday
I started by sorting through my cardstock paper scraps and choose colors that would complement each other.  The easy way to do that?  Choose your colors from the same color group!  These came from the Regals Assortment.  Aren't they just beautiful together?
First I selected four colors and cut my scraps down to 1-3/4″ squares.  Then I laid them out  and held them together temporarily on my work surface with cover-up tape along the outside edges so they stayed in place.  The trunk and tree from Beauty of Friendship were then stamped in the center.  Cool!
The Stylish Shapes Dies are perfect for cutting out geometric shapes, which can be layered together to create an eye-catching design.  Here I cut out an opening from the center of a 4-1/4″ square using the largest square die.  Then trimmed off 1/4″ along the outside edges so that it would look nice over the grouping.
The designer paper pattern used for the background came from the He's the Man paper collection and coordinates with the squares beautifully.  I glued it to the center of the black card base.  Then I arranged and glued the squares down, then the "frame" over the top.
Adding a Sentiment
Next, the Beauty of Friendship stamp set was used again to add a sentiment.  You can use the set's sentiments to convey your message – whether it's a thank you, congratulations, or just a note to say hello like I used here.
I embossed the "Hello" sentiment in white on black cardstock.  The smallest flag die from Stylish Shapes was used to cut it out.  I wanted it even smaller, so I lined up the die in the stitched grooves over what I'd previously cut, offsetting it a bit, to cut off the edge.
Don't be afraid to mix and match your paper scraps and stamp images to create truly unique cards that will leave a lasting impression on your recipients.  So start rummaging through your paper scraps to start crafting with paper scraps, and let your creativity take flight!