Making cards with paper scraps can be a fun and budget-friendly way to create unique and personalized cards. As you can see, one-inch strips from the Texture Chic Designer Paper collection is a great choice for creating lovely homemade cards as it has a variety of subtle patterns that can add interest to your designs. 
Here are a few tips and techniques you might find useful to create beautiful handmade cards on a budget:
1. Sort Your Scraps by Color and Size
Sorting your scraps by color and size can make it easier to find just the right piece of paper for your card.  You can use small plastic containers or trays to sort them.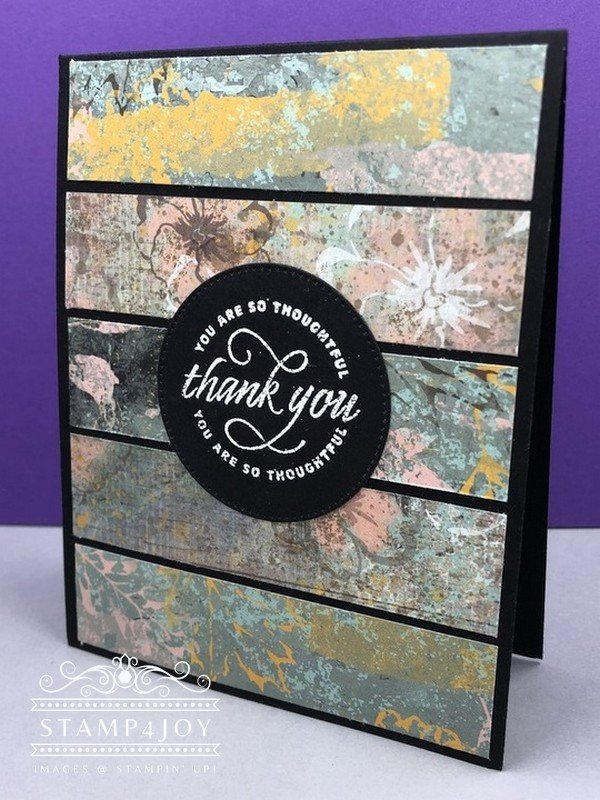 I personally use these 6″ x 6″ Storage Pockets to store my scraps until I need them.  I insert these smaller pockets into Paper Storage Pockets that holds the 12″ x 12″ papers.  These help me keep my papers organized.  I love them!
2. Use Punches and Dies
Punches and dies are great tools for cutting shapes and designs out of your paper scraps. You can use them to create borders, frames, and embellishments for your cards.
Here I used one of the circles from the Stylish Shapes Dies to cut out the card sentiment that I  stamped and embossed from the Flowering Tulips stamp set. 
3. Layer Your Scraps
Layering your paper scraps can add depth and dimension to your cards. You can use foam adhesive or double-sided tape to adhere your layers together. The Texture Chic Designer Paper has a variety of patterns that could be layered together to create interesting designs.
4.  Use a Paper Trimmer
A paper trimmer can make it easier to cut your scraps into the size and shape you need for your card. It can also help you create straight edges and clean cuts.
5.  Emboss Your Scraps
You can run your scraps in an embossing folder using a die-cutting machine to add some texture and interest to your cards.
6.  Stamp on Your Scraps
Stamping on your scraps can add a personalized touch to your cards. The Flowering Tulips stamp set has a variety of images that can be stamped onto your smaller pieces.  Use different ink colors to create a variety of looks.
Here I used the circular Thank You sentiment from Flowering Tulips.  I embossed it in white on the black circle to coordinate with the black cardstock peeking through the strips of paper.
7.  Use Embellishments
Embellishments like sequins, rhinestones, and ribbon can add a finishing touch to your cards. You can use them to add sparkle, texture, and interest to your designs.
Making beautiful cards with paper scraps can be a fun and creative way to use up your paper stash.  Experiment with different techniques and have fun creating unique and personalized cards.
Here's another example of a way you can use paper pieces to make cards.6