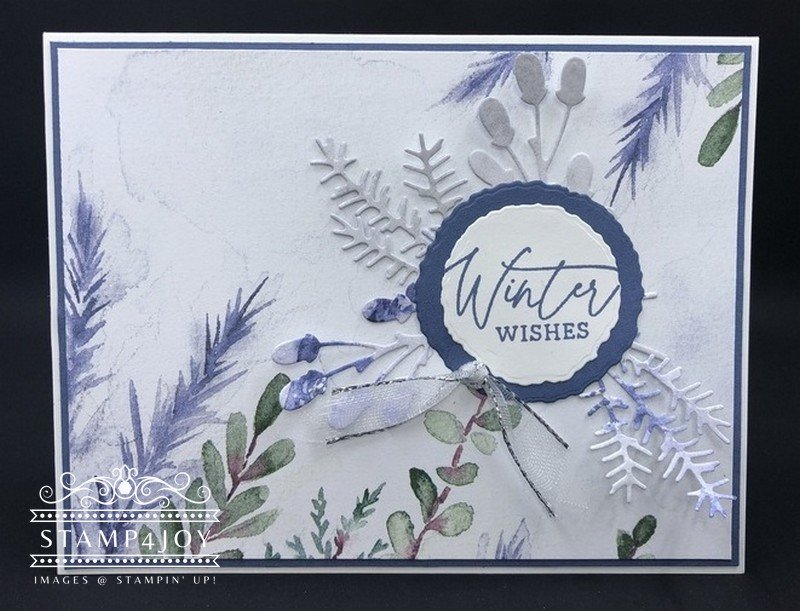 Embrace the Season with Handmade Winter Wishes
As the winter season approaches, the air turns crisp, and the festive spirit fills the atmosphere, it's the perfect time to express your warmest sentiments to loved ones. What better way to do this than by sending heartfelt winter wishes through beautifully crafted handmade cards?  Creating personalized cards adds a unique touch to your greetings, making your loved ones feel truly cherished.
One of the key elements in crafting a memorable card is choosing the right materials.
For this particular card I began with a simple yet stunning pattern from the Winter Meadow Designer Paper collection.  The design elements in this collection capture the essence of winter, with elegant motifs and wintry colors that set the perfect backdrop for your heartfelt message.
The greeting from the Magical Meadow stamp set was the perfect complement.  To give the greeting an eye-catching frame I mounted it on some Misty Moonlight cardstock after cutting them both out using the Deckled Circles Dies.
To infuse a touch of nature into I added a cluster of foliage cut from scraps of another pattern from the Winter Meadow Designer Paper collection.  I used dies from the Magical Meadow Dies for that.  This not only enhances the card's visual appeal, but also creates a sense of harmony with the winter season's beauty.
What's a winter card without a little sparkle?  To achieve this I included a short snippet of Silver & White Sheer Ribbon I had left over from another project.  Simply tying a knot in the middle and attaching it to the card brings a subtle but delightful shimmer, reminiscent of glistening snowflakes on a winter's day.
The final result is a card that radiates simplicity and elegance, perfectly capturing the essence of winter.  It's a heartfelt message wrapped in a work of art, and I'm certain your family and friends will appreciate the time and effort you've put into creating such a special card.
A delightful way to send your warmest winter wishes to your loved ones. 
By selecting the right materials, adding a few intricate details, and infusing a touch of nature and sparkle you can create a card that's not only a beautiful piece of art, but also a heartfelt expression of your affection.  This winter season let your creativity shine, and share your love with those who matter most through the magic of handmade cards.
You'll find all the products used to create this special card below.  And here's an easy Christmas card featuring this beautiful paper.