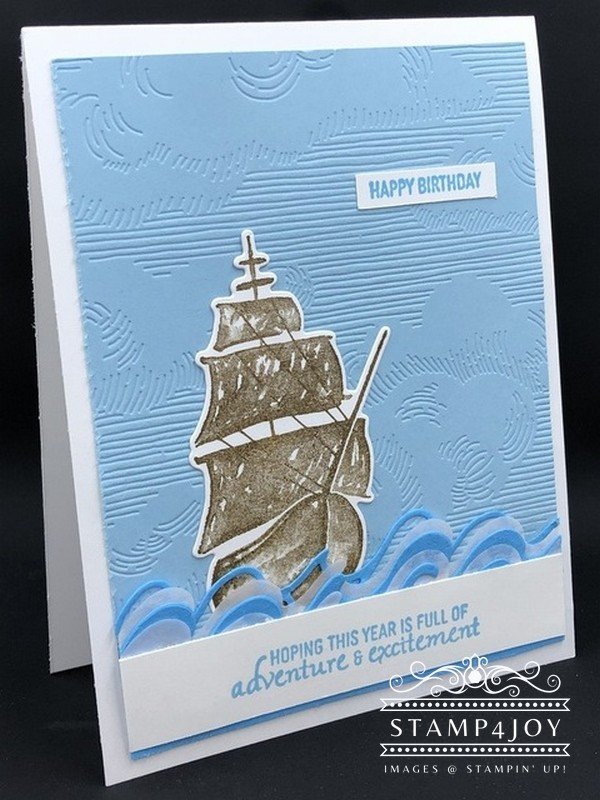 Are you looking for a creative way to make a birthday card for a young boy?  Look no further than the On the Ocean stamp set and On the Ocean Dies!  A nautical theme with a hint of pirates, this set is perfect for any ocean-loving kid.
Order them together in the On the Ocean Bundle and save 10%!
Use What You Have!
But what if you don't have all the materials on hand?  That's where the "use what you have" mentality comes in.
After making cookies I wound up with some leftover parchment paper, as usual.  I hate being wasteful.  So in the spirit of this month's Easy Paper Craft Friday theme of using scraps I was determined to make use
of that extra paper.  I thought this idea worked perfectly! 
When making my own card with this bundle I decided to use the extra parchment paper for the "choppy" waves rather than throwing it away.  It turned out to be the perfect substitute for vellum.
By simply cutting out the wave shapes using the On the Ocean Dies, I was able to create the look of choppy ocean waves using some scrap Tahitian Tide cardstock and the parchment paper.  The slight transparency of the parchment paper added to the effect, giving the waves an interesting texture.
I used the Into the Clouds Embossing Folder for the background.
This experience taught me that sometimes the best crafting materials are the ones we already have on hand. 
Upcycling
Save that extra parchment paper!  If you find yourself out of vellum at the last minute you can just repurpose an everyday item and still achieve the desired effect.  Not only is this approach cost-effective and sustainable, it also allows for more creativity and experimentation in your crafting. 
Incorporating the "use what you have" tactic into your crafting can not only save you money, but also encourage you to think outside the box and come up with unique solutions to any crafting challenge.  So next time you find yourself short on materials, don't be afraid to get creative and make the most of what you have on hand!
Would you like more ideas for nautical-themed cards?  Check out this maritime beauty!