I recently had someone ask me:  What is the most versatile punch in the catalog?  While I assured her that all of our punches can be very versatile when coming up with your own Stampin' Up! card ideas, I wasn't satisfied with that answer.  So, it got me thinking:  What IS the most versatile punch we sell?  I've come up with my answer.  What's yours?
What's my answer?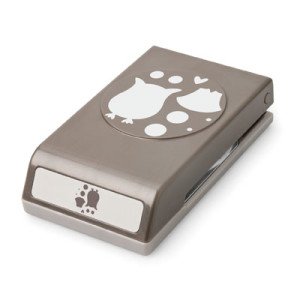 After quite a bit of thought I've decided it's the Owl Builder Punch!  You may have another opinion, but what CAN'T you do with him?  Not only can you dress that little guy up in all sorts of outfits, he can morph into animals and all sorts of creative things.  He's a chameleon for sure!  And over the next week or so I will be showcasing a number of paper punch art ideas you can use this punch for, so be sure and check back in!
I designed this dramatic yet easy card for a friend of mine who is leaving one career to start another.  I used the Owl Punch body to create a tulip for the focal point.  I also used a circle punch to help fashion the petals from the body, but it was quite simple to do.
The tulip is mounted on card stock I cut using the Big Shot and the Deco Labels Collection.  The greeting is from Really Good Greetings (w-130330/c-130333), and the polka dot patterned paper is from… you guessed it!… Modern Medley Designer Paper.
What do YOU think is the most versatile punch in the Stampin' Up! Catalog?
Leave your ideas below.