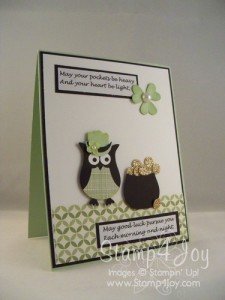 Continuing with what I believe to be the most versatile of all the Stampin' Up! punches, how about using the Two Step Owl Punch to make St. Patrick's Day greeting cards?  Dress him up in green for good luck and send him on his way!
This card is for my son (who saves all of my homemade greeting cards).  I searched traditional Irish blessings to find just the right one.  When I finally did I printed it on copy paper, mounted it on card stock, and attached it to the card.  It reads:
"May your pockets be heavy and your heart be light, May good luck pursue you each morning and night."
Of course there's a little bit of paper punch art by assembling the owl, and then the "pot" for the "gold" is the body of another owl, trimmed along the top and bottom with other punches.  Can you guess what Stampin' Up! punch I used for the hat? 🙂
I assembled the clover using the Small Heart Punch, although I think I could have brought them in closer together… and probably should have added another to make it a four-leaf clover, right?
I didn't have any Gold Glitter Paper on hand so I used the Champagne Glitter Paper.  I think it works just fine, although you can't see much of the sparkle in the picture.  You can click on the picture for a closer view.
Which reminds me, sorry for the photos I'll be showing this week, my photography skills seem to have left me… hopefully temporarily!
All the supplies used on this St. Patrick's Day card are shown below: