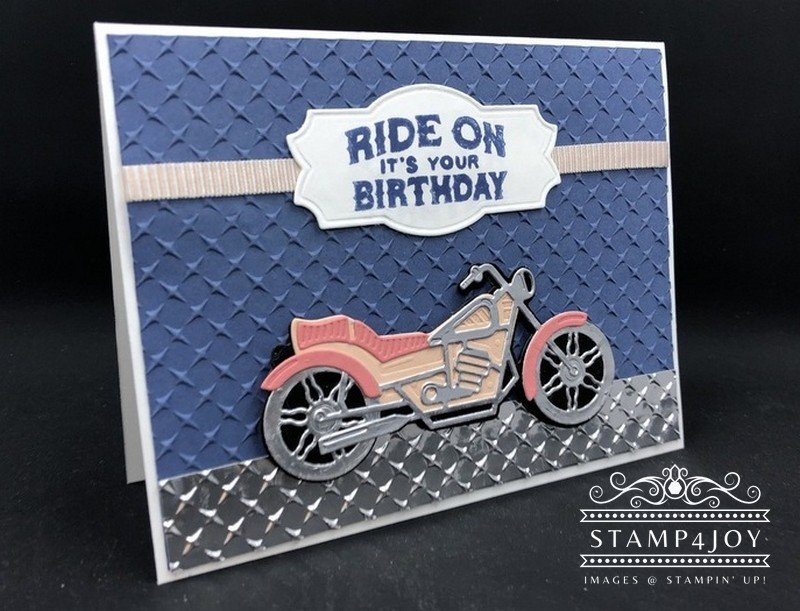 Roar with Power:  A Perfect Motorcycle Birthday Card for the Ladies
Are you looking for a birthday card that celebrates the fierce spirit of women who love the thrill of riding motorcycles?  Look no further!  This DIY birthday card idea is the perfect choice for those ladies who like to roar with power on two wheels.  Featuring the Legendary Ride stamp set and Legendary Ride Dies, this fun and feminine card will surely make their day extra special.
Texture and Colors
A standout feature is the texture provided by the Metal Plate 3D Embossing Folder.  It adds a striking and realistic element to the background.  And the unexpected color scheme adds a touch of femininity to the overall design.  For this particular card, Petal Pink, Flirty Flamingo, and Misty Moonlight were chosen to create a visually appealing and unique combination.  The inclusion of Silver Foil adds a chrome-like effect, giving the card a touch of authenticity.
Petal Pink ribbon from the Ribbon Duo Combo Pack was carefully wrapped behind the sentiment to enhance the overall aesthetic.  This subtle addition not only adds a soft and elegant touch, but also complements the color scheme seamlessly.  It serves as a delightful detail that ties the elements together cohesively.
This eye-catching motorcycle birthday card is the perfect way to celebrate the ladies who embrace the thrill of riding on two wheels.  Whether it's for a friend, family member, or loved one, this handmade creation will undoubtedly leave a lasting impression.  So, roar with power, break stereotypes, and let this card convey your admiration and support for those who love to ride.
You won't want to miss checking out this fancy DIY birthday card idea.