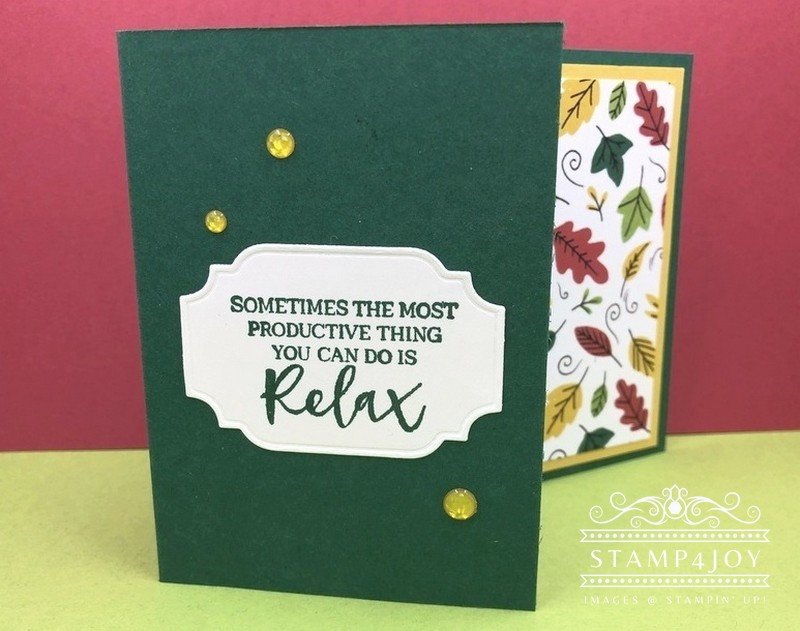 It's not necessary to have a fall-themed stamp set to make some handmade fall cards.  If you have some designer paper that has a fall feel to it, we can make that work!
This card design is perfect when you may be running a little low on a particular cardstock or designer paper.  Instead of using the more traditional 4-1/4″ x 11″ or 5-1/2″ x 8-1/2″ size for your card base, we're working with a sheet of cardstock that measures 4-1/4″ x 8-1/2″.  It still fits inside a regular A2 envelope.
As you can see in the photo on the right, the designer paper is only used on the portion that is showing when the card is closed, so you don't need a large piece of patterned paper, either.
The "trick" to this card is the fold.  You'll want to score the card base at the 5-1/2″ mark along the long edge.  This allows the left side to fold over onto the right, leaving the portion with the colorful designer paper showing.  Perfect!
This card is really easy to make, but has a unique feel to it with its unusual fold.
For my Crushed Curry Cardstock insert I first went to where I store my scraps.  Each of my colors has its own labeled stamp case so it's easy to see what I have.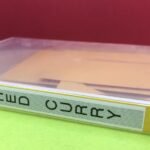 Fall Card Dimensions
4-1/4″ x 8-1/2″ scored & folded at 5-1/2″ to become card base
4″ x 5-1/4″ for insert
2-1/8″ x 3-3/4″ for designer paper
You'll find the products to make handmade fall cards like this one listed below.