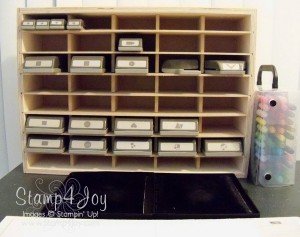 I just received a cool addition for my craft room storage.   Organizing my Stampin' Up! punches will be even easier with this wooden storage solution from Stamp-n-Storage.  They come unfinished, and since I am not talented at finishing wood products I will leave them as is for the time being.  Some day I'll get someone to paint or finish it for me.
I can't wait to add to the collection so I can have everything within easy reach!  I think I'll ask if they can make one for just ink pads and re-inkers, because I'd like to keep my Stampin' Up! markers in their case.  Of course, I may change my mind about that.  🙂
If you're looking for betters ways of organizing your craft room, you might check them out.  Be sure and tell them I sent you!
What do you think of this cool craft organizer?  Please leave your comments below.