Take your handmade card making up a notch.  Become color savvy with the Color Coach and try new color combinations.
The Color Coach is a swatchbook of cards for every color in our collection, and is a wonderful resource for helping you step out and try new and exciting color combos.   It also comes with a set of informational cards that explain basic color theory.  You can easily add new color cards when they come out, like the 2011-2013 In Color Cards and the 2012-2014 In Color Cards.   There is an English version or a multi-language version to choose from.
I use my Color Coach regularly for inspiration.  Get yours today and become color savvy.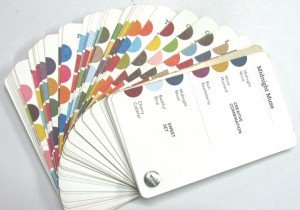 What's your favorite color combination?
Leave your response below.