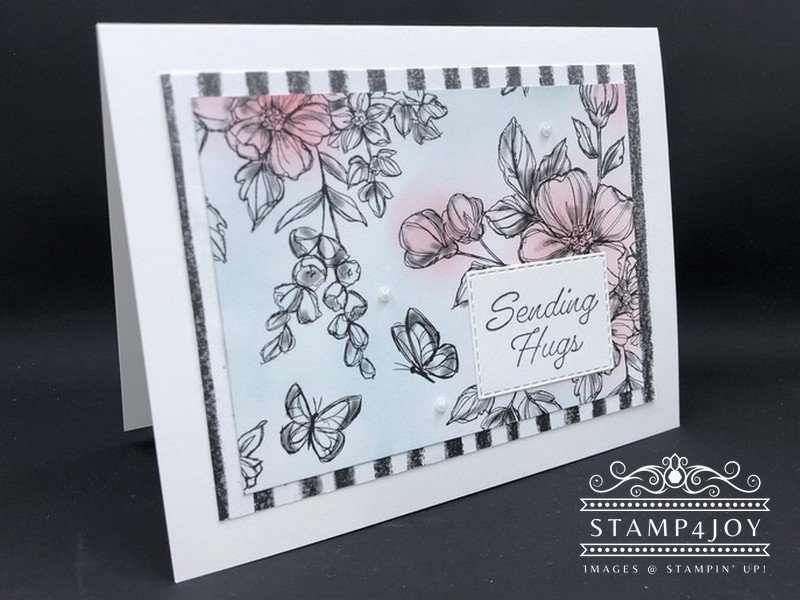 The power of handmade cards is they can connect and uplift.
Have you ever received a handmade card in the mail? There's something special about knowing that someone took the time and effort to create something just for you.  And that's exactly what you can achieve with a card like the one I've created featuring the sentiment "Sending Hugs" from the Eden's Garden stamp set.
It's Manic Monday! 
Today's project inspiration came from Page 75 of the January through April 2023 Mini Catalog.  Using a couple of the black and white patterns from the Perfectly Penciled Designer Paper, I added a hint of color using some Blending Brushes.  The Iridescent Pearls provide just the right amount of sparkle and elegance to the card front.
Why Send a Card Like This?
There are countless reasons why you might want to send a handmade card to someone you care about.  Maybe you know someone who's going through a tough time and needs a little pick-me-up. Maybe you want to let someone know that you're thinking of them and that you're grateful for their friendship.  Or maybe you just want to brighten someone's day and bring a smile to their face.
In today's world, a card like this can be especially meaningful.  Even if you can't be there to offer a physical hug, the sentiment can provide a virtual one and let someone know that they're not alone.
So the next time you're thinking about reaching out to someone you care about, consider the power of handmade cards like this one. It's a small gesture that can make a big impact and remind someone that they're loved and appreciated.
Here's another handmade card design using the Perfectly Penciled Designer Paper.