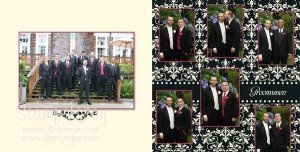 My nephew got married last September, and his sister is getting married in one week!  So obviously I have TONS of wedding photos to play with!
I purchased the Meant to Be Board Book digital scrapbook template for My Digital Studo to make these beautiful keepsake 8×8 board books.  I wish I'd found it sooner, because Stampin' Up! also has coordinating invitation templates and a congratulation template.
The board book has 34 pages that you make up in two-page spreads, and it's all laid out for you, just add pictures!  There's a layout for the bride, the groom, the kiss, the cake, and more.  I'll be showing some of the pages here, but when I have them professionally printed up I'll be sure and share the book with you, too!  You can click on the photo for a better look.
Let me know what you think!  Use the Response link in the bottom right-hand corner!