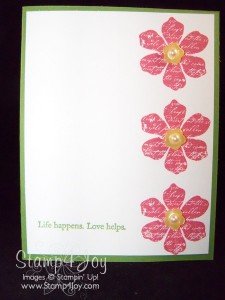 Use  Vintage Vogue to make friendship greeting cards that they're sure to love!
With a couple of inspirational sayings and a "collage" look to the larger images, this set is one of my all-time favorites.   I'm so sad it made the Stampin' Up! Retired Stamps list, but there's still a few more weeks for you to pick it up.   And you do have the option of wooden or clear rubber stamps.
You may not see it in the picture, but I adhered some pearls to the center of the buttons.  And I used some of the new colors coming in the next catalog, too… they're so yummy!
Supplies: