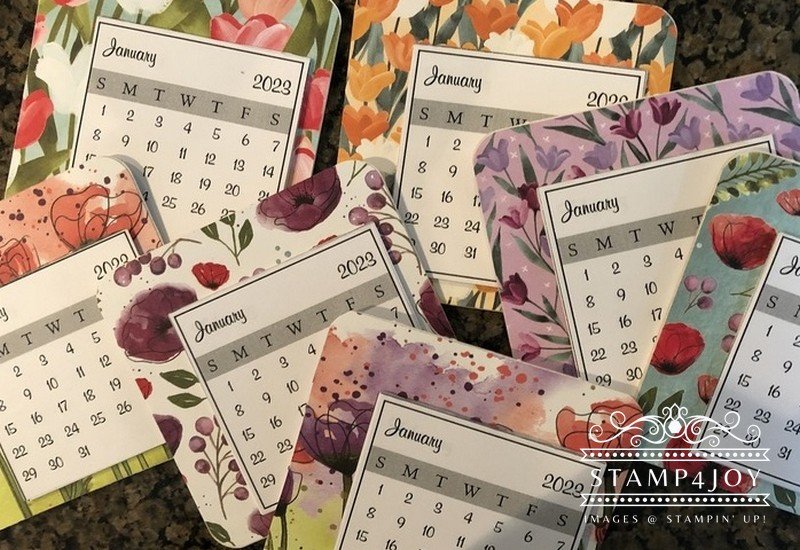 Make a magnetic calendar for your fridge with some pretty leftover paper in your supply stash.  
These make bright, fun host gifts for those holiday parties.  All you need to start with is about four square inches of designer paper!  You can see all the lovely paper I was able to use here.
First you'll need to get some coasters like I picked up HERE.
These are great for so many different projects.   Don't worry that you won't have anything else to use them for (aside from coasters at your parties, that is!).
I used a corner rounder to round the edges of the corners before gluing them to the coasters.  If you don't have one you could just glue them first and then trim around the corners with some scissors.  Multipurpose Liquid Glue is what I used to glue the paper down.  It's also what I used to glue the calendars onto it.  I just applied some along the top of the back and then stuck it down.
The Calendars
Although I had originally planned on creating the calendars myself for my hostess gifts this year using the fun Days to Remember stamp set, I just ran out of time.  So I picked these cute calendars up from Etsy HERE.
The last thing I needed were some little magnets for the back so they would stick to the fridge.  I got mine HERE because I wanted them small and thin.  I also wanted quite a few of them because I use them in a number of different projects.  They're only 1/32″ thick, so they aren't obtrusive at all in your paper craft projects.  Being super thin isn't necessarily as important in a fridge calendar, so you could also use something a little larger like THIS.
I used some Shimmery Crystal Effects I had left over to glue two magnets to the back of the refrigerator calendars, but that's only because I was out of my Gorilla Glue! 🙂