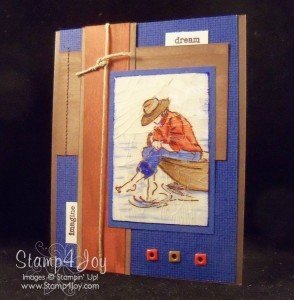 Well, look what I found!  A bunch of examples of handmade cards made and swapped between myself and other Stampin' Up! demonstrators a long time ago!  Remember eyelets?!?  LOL!  I do miss eyelets.  Am I the only one?
Just because I don't feature retired rubber stamps or products on my website or blog doesn't mean you, my readers, stop using them.   So I thought it might be fun to pull out some of these oldies-but-goodies now and again for you to enjoy.
I don't recall who created this gem  — I've since converted these to full greeting cards — but isn't it beautiful?  A lot of subtle details went into this wonderful handmade card.
Who can tell me the name of the stamp set featured?
Leave your answer below.