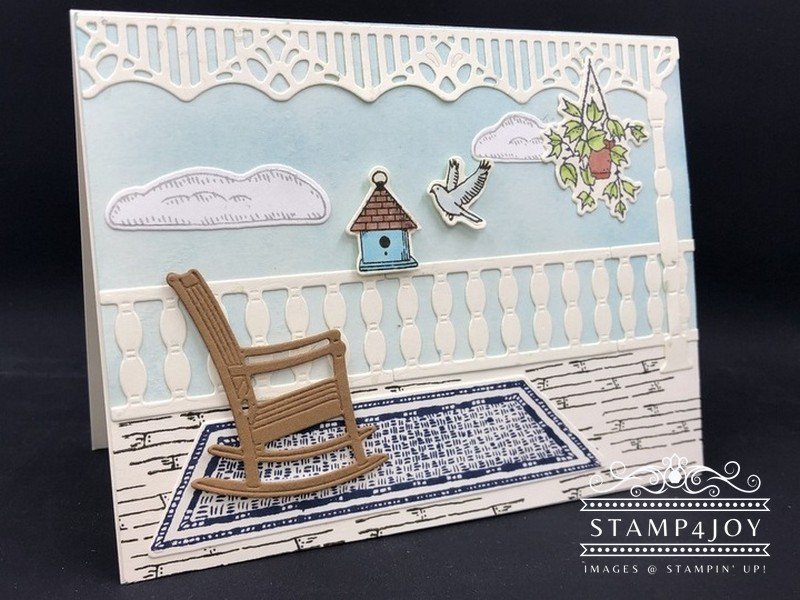 A few months ago I found myself engrossed in designing some homemade card ideas with the Lazy Days Bundle.  It's interesting how time flies, but looking back I wanted to  share one of the creations I came up with using this versatile bundle.
This combination of stamps and dies opened up a world of possibilities, allowing my imagination to run wild.  With elements like furniture, plants, birds, and more at my fingertips, there was no limit to the
scenes I could create.  For this particular project I aimed to capture the essence of a tranquil summer afternoon spent on a cozy front porch.  How did I do?
I wanted the sky to have the  calming feel of a lazy summer day.  To achieve this I used  Blending Brushes, applying a few hues of blue.  A variety of Stampin' Blends added the final touches.  
Looking at the finished card, I think the Lazy Days Bundle truly lived up to its name. 
If you're looking for a creative outlet to express yourself while embracing the charm of handmade cards, I'd definitely recommend exploring the endless possibilities this bundle has to offer.
If you're looking for some simple homemade card ideas be sure to register for my August Mystery Stamping Party, which will go live Sunday August 6th at 1:00 p.m. Pacific Time.  Everyone is invited!