Introducing my August Featured Product, the Celebrate Today Magnet Board Kit!  As a fellow crafter, I'm excited to share this amazing kit with you. Even more exciting?  During the month of August you can snag this fantastic kit at a whopping 30% discount (while supplies last)!
From now until Sunday, August 6th, I'm offering a special August Featured Product deal.  When you order the Celebrate Today Magnet Board Kit using Host Code EES6CFGU, I'll send you a 5-page Sampler PDF tutorial (as shown below). This tutorial comes complete with a supply list and step-by-step instructions, making it even easier for you to get started on your crafting journey.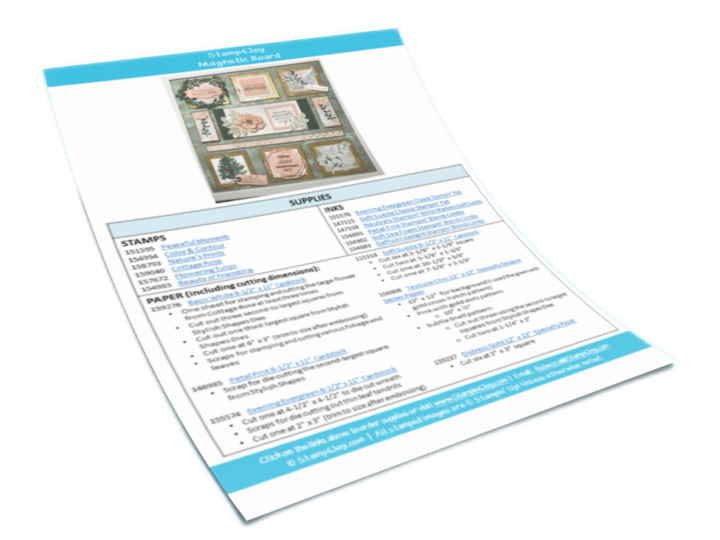 What's so special about the Kits Collection by Stampin' Up!?  Well, these kits are designed with you in mind.  Whether you're new to crafting, a busy individual, or simply looking for quick and easy projects, these all-inclusive kits have got you covered.  Everything you need is neatly packaged in one box, saving you time and ensuring you have a stress-free crafting experience.  Plus, they make fantastic gifts for your fellow crafting enthusiasts.
And here's the cherry on top!  Throughout August you can get your hands on these fantastic kits at up to 30% off!  It's the perfect time to try them out and discover how they can elevate your crafting game.
Now, let's dive into the star of the show
The Celebrate Today Magnet Board Kit is not just any ordinary craft project.  It's a beautiful and functional magnet board that will help you stay organized in style.  With its interchangeable messages, backgrounds, and envelopes, you have the creative freedom to decorate the board to match your unique style and meet your specific needs.  Or your can decorate it up with removable elements like we did here!
Imagine bringing your crafting passion out of the craft room and into your home with this delightful magnet board.  It'll not only add a personal touch to your living space but can also help you keep track of your daily life in a fun and practical way.
So if you're ready to take your crafting to the next level and bring a touch of creativity into your everyday life, the Celebrate Today Magnet Board Kit is your perfect companion.  Remember, this kit is based on availability, so don't miss out on this incredible offer.  Order now and let the crafting magic begin!
Check out this thank you card made using one of the stamp sets in this tutorial.
Happy crafting!