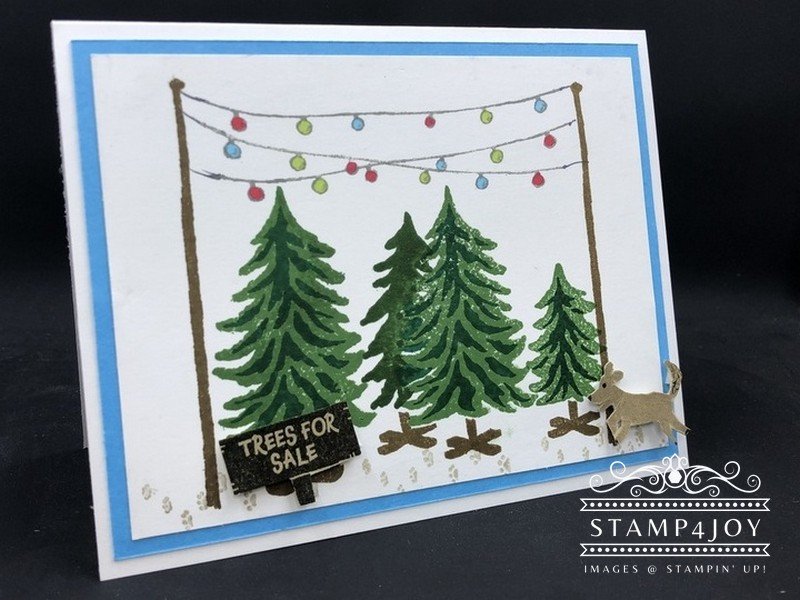 It's Christmas Card Sunday, and we're ready for another holiday card idea.  Today I used a retired stamp set called Trees For Sale.  (See the photo below).  You can find this gently used set for sale on my Retired Rubber Stamps page.
You don't have to even use this as a Christmas card idea, it could serve as a fun winter card design.  I left the card sentiment off for that very reason… just can change the sentiment to suit your needs.
I stamped and then masked one of the larger trees, then stamped the smaller ones behind and off to the side.  The "Trees For Sale" sign was stamped in Early Espresso ink on Crumb Cake Cardstock and then cut out with my Paper Snips.  I stamped the little doggy on Crumb Cake cardstock in Crumb Cake ink, and then added a nose and eye and a few other features with my Early Espresso Marker.  You can tell he's so excited, his paw prints are everywhere!  🙂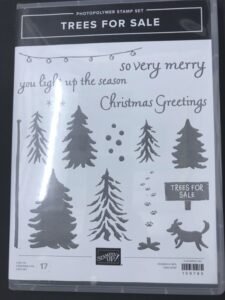 I used my Stampin' Blends to color in the Christmas lights strung overhead.
Here's a pretty snowflake Christmas card I made for Christmas Card Sunday a couple years ago.
The color palette used on today's holiday card idea can be found below.