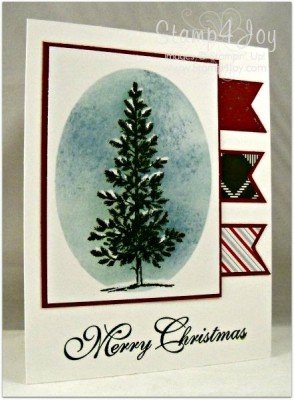 Papercrafters are notorious for repurposing all sorts of things to use in their paper craft projects.  Well, today is no different.  Grab your kids' white crayons and let's play!
Today is Christmas Card Sunday.  In case you're not familiar, I made a commitment at the beginning of the year to devote most Sundays throughout the year to handmade Christmas card ideas.  When it comes time for the holidays I will be well on my way in completing my homemade holiday cards.  Why not join me.  Christmas is closer than you think! 🙂
Today I wanted to use one of my favorite stamp sets in the Stampin' Up! catalog, Lovely as a Tree.  It's certainly the oldest stamp set we have available, but it just keeps on giving!
One of my favorite techniques for using with trees and holiday cards involves a white crayon.  And it's so simple!  Stamp your image and let it dry.  Then apply white crayon where you want "snow" to appear.  Sponge on color over the image, wipe off with a tissue, and the snow just pops up!  Very cool.  Of course, this works best on white card stock.  And it doesn't have to be a tree, anything that might have snow on it will work.  Super simple!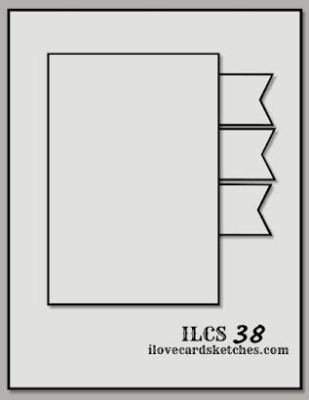 I used the Banner Triple Punch to make the flags, which were made using patterns from the Merry Moments Designer Paper collection, and the greeting came from the retired stamp set Greetings of the Season, which you can find for sale on my Retired Rubber Stamps page.  Everything was mounted on Cherry Cobbler card stock, the perfect red for your handmade Christmas card ideas!
The layout for this card design came from the sketch this week over at i Love Card Sketches.  A good way to get your creative juices flowing, stop on by and show us what you can come up with!