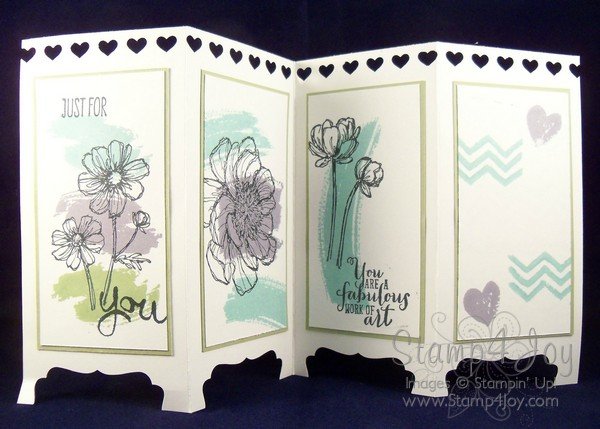 I love different card folding techniques.  They look hard and complex, but usually are quite easy to achieve.  This card was super fast to make, and I think it's super cute!
If you're using a border punch along the top that will actually remove the edge of the card stock, you can start with a piece of card stock that's 5-3/4″ x 11″.  If you're using one like I did, that doesn't remove the edge, cut your card stock down to 5-1/2″ x 11″.  I wasn't thinking when I made this card and I neglected to do that, and now I have to use a larger envelope.  Oh, well, lesson learned! 🙂
Next score your card stock along the long side at 5-1/2″ x 11″,  2-3/4″, 5-1/2″, and 8-1/4″.  I used my punches on the card before folding, the Hearts Border Punch along the top and the Decorative Label Punch partially along the bottom to make the "legs."  Now you can fold each fold in the opposite directions to make your screen as shown in the picture.
I next cut my stamped pieces (4 of them) at 2-1/8″ x 4-1/8″, and then the colored card stock they're mounted on was cut at 4-1/4′ x 2-1/4″.
Now you're ready to stamp and assemble!  For this card I used Work of Art and the hostess-only set Bloom with Hope.  The colors used were Pear Pizzazz, Pool Party, and Wisteria Wonder.
Place an order in July of $50 or more in my Online Store, and not only will you be registered in my Stamp4Joy Rewards Program, but I'll send you one of these cards absolutely free!