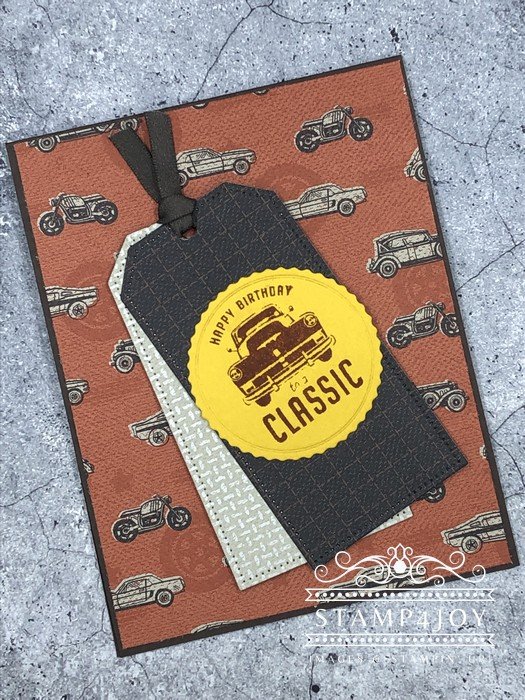 He's the Man Suite Collection is perfect for making a birthday card for a man.  Full of manly themes — BBQ, cars, camping, etc. — you should be able to find something suitable for those masculine cards you need.
I'd previously stamped the focal image from He's All That for another project I was working on.  I decided not to use it and so I set it aside for another time… which turns out to be today! 
The beauty of the collections are that the colors are pre-selected for you and all the items coordinate.  That makes it easier to select what to use in your projects, even if it's not included.   Plus you save 10% off the bundles the first year they're presented!
Crushed Curry was one of the colors featured in the designer paper collection.  Because of that I knew it would work well even though it's not on any of the papers I used in this card design.  It eliminates a lot of the guesswork!
I used the largest of the Tailor Made Tags Dies to cut out a couple tags from two of the paper patterns.  I threaded some Early Espresso Faux Suede Trim through the holes to attach them together.  This ribbon has a wonderfully soft feel to it!  I placed a glue dot to the back of the top tag to keep them separated on the card.  And finally a few Stampin' Dimensionals were used to attach the tags to the front of this birthday card for a man.
You'll find all the products used to create this homemade card below.  And for more inspiration be sure to check out this handmade thank you card idea.