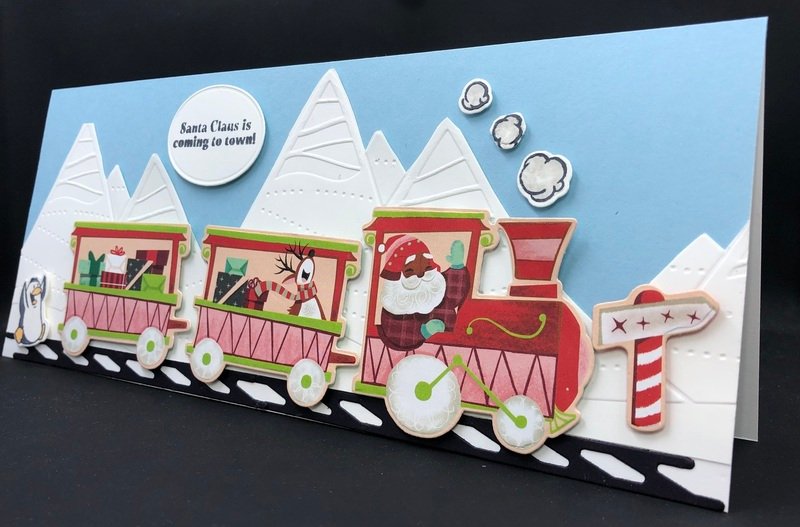 Sometimes you want to create some whimsical Christmas card ideas, but you don't want to (or don't have the time to) make it for everyone.
It's okay for us to create simple cards for our family and friends and also design a few fancy ones for those special people.   I'll be sending these fun Christmas cards to families who have young children.  I think they'll get a real kick out of them, don't you?
This Christmas card idea uses items from the Santa Express Suite Collection.  The Santa Express Designer Paper does most of the work so there was very little stamping that I had to do.  Santa's Train Dies were used to cut out the train pieces and the North Pole sign from the paper patterns.  I cut the tracks from black cardstock. 
I did stamp and then color in the penguin and puffs of smoke with my Stampin' Blends.  There were even  corresponding dies to cut them out, too!  Then I used the oval from the All That Dies to cut out the sentiment.
One of the folders from the Charming Landscapes set was used to create the snow covered mountains.  I decided to cut them out and place them on a Balmy Blue Cardstock background.  I think they show up more for the card scene.  What do you think?
After you design your whimsical Christmas card ideas you may want a simple holiday card design you can mass produce for everyone else.  If you receive my newsletter you'll see one tomorrow morning in my newsletter using some of the same products.  Not on my mailing list?  Sign up here.
Click here to see another DIY Christmas card idea for kids.