Merry Christmas!  I hope you're all having a wonderful time spent with your loved ones.
Today I thought I'd highlight a few unique gift boxes I made for Christmas this year.
The first diy gift box I created features the Under the Tree Specialty Designer Paper, which you can pick up for a discount right now, and the scrumptious Cherry Cobbler Sheer Linen Ribbon.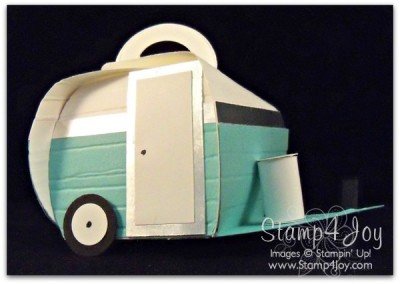 These next pictures are of a super cute gift box.  Although I actually had thought of creating a similar box, a couple other demos had the same idea and shared their directions first, which saved me the trouble.  Love that!  They were so clever!  You can find their instructions for this adorable retro trailer Curvy Keepsake Box HERE.
You might notice a few mistakes on this box, specifically in the scoring.  I didn't have time to correct it, but next time I'll be sure and score the blue BEFORE adding it to the white… that double layer was just too hard to score a straight line through!
It's hard to see with the lighting, but there's a silver strip all around this little beauty above the blue.
My brother-in-law is thinking about retiring soon, and at Thanksgiving he was talking about  buying an RV and just hitting the road when the time came, so I thought this was perfect for him!  He'll have to pack light, though. 😉
Here's another version all in silver, including the tag.  I used this cute little number to put some cash in.
Wouldn't these make beautiful  handmade wedding favor boxes?  And so quick & easy, too!
They are pretty small, but you can't go wrong with the Curvy Keepsake Box Thinlits Dies if you're looking to wow them with unique gift boxes!  And they're being carried over when the new Occasions Catalog comes out, so there's still time to pick up this cool toy!