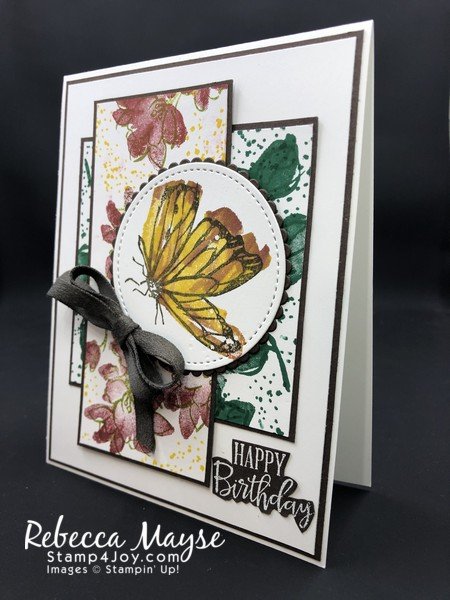 This sneak peek shows how you can make stylish handmade greeting cards without adding patterned paper.
A Touch of Ink is a two-step stamp set you can select FOR FREE during Sale-A-Bration with a $100 order. The beauty of two-step stamps is you can get a lot of variety and detail with the same set. You can use just the detail stamps or you can add the solid, undefined portions, too.
Make Your Own Designer Paper
Instead of adding the expense of designer paper I decided to create my own background paper by stamping all over white cardstock in a random pattern. Using one set of stamps for each portion of the background — flowers for one and leaves for the other — I was able to add a variety of color and design. This is an easy way to make some quick DIY birthday cards without having to worry about having the right designer paper or colors on hand.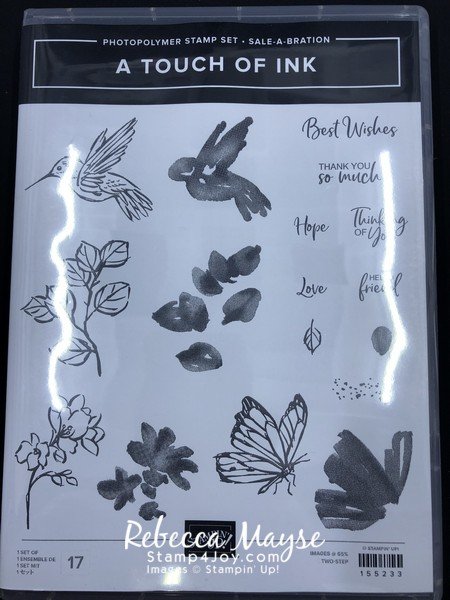 I stamped the butterfly outline in Early Espresso Ink. To add some a variety of color to the wings I first inked it up in Crushed Curry Ink, then used a Cherry Cobbler Marker to swipe a little along the edges and up the wings. One of the circles from the Stitched Shapes Dies was used to cut out the butterfly, and then a slightly larger scallop circle from the Layering Circles Dies in Early Espresso Card Stock. Then I attached a double bow that I made from Early Espresso Faux Suede Trim… very luxurious!
Since I wanted to make a birthday card I pulled the card sentiment from the Peaceful Moments Stamp Set. I actually had made it for another project and then decided not to use it. I had embossed it in white on black card stock and then cut closely around the words using my Paper Snips.
Check Out the New Catalogs!
The January through June 2021 Mini Catalog and Sale-A-Bration begins in just a few weeks. And just FYI, Sale-A-Bration only last two months this year, so get ready! 🙂
Are you looking for more stylish handmade greeting cards? Check out this handmade floral thank you card.