Today I thought I'd talk a little bit about storing paper in my craft room.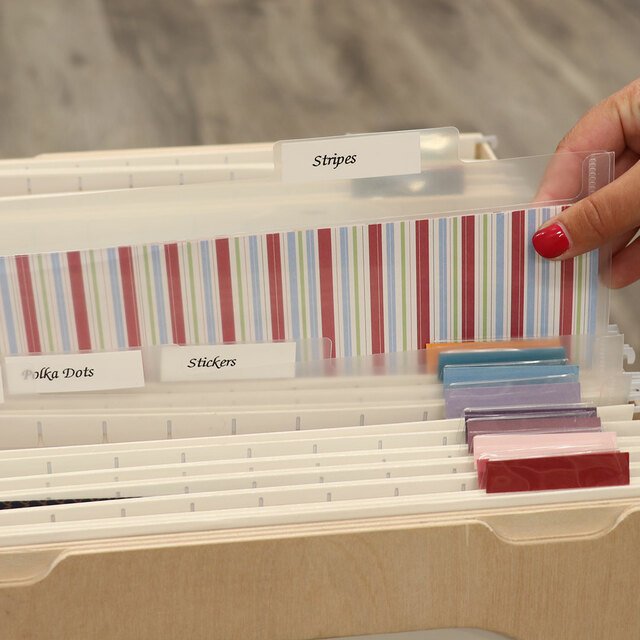 As you may know, many of my favorite tools for craft room organization come from Stamp-n-Storage. I use their products for storing my dies and framelits, my 12″x12″ paper, ink pads, markers, Stampin' Blends, and more.
My latest addition has been their 12×12 Paper Storage Pockets. Love these! Each pocket holds at least one package of our designer paper and keeps it dust free and safe from bending, and it's also the perfect solution for holding those precious designer paper scraps! I also make sure to place the cardboard piece in the back. That way I can see at a glance the colors used in the paper designs because it's printed on the back of the cardboard.
At just $25.75 for 15 of the 12×12 pockets, that's only about $1.72 per pocket and much cheaper than the competition I've used before. They fit nicely in the 12×12 Scrapbook Paper Holder, too, and they have tabs for easy labeling to make finding what you're looking for very easy.
I use the Stampin' Up! stamp cases to store my scraps of 8-1/2″ x 11″ cardstock on one of my Mega Stamp Case Shelves. I have a stamp case for each cardstock color. If you don't have a system set up that you like for storing your cardstock scraps for easy access, you might try this setup. Or Stamp-n-Storage also has a variety of Paper Storage Pockets, too, for 8-1/2×11 in different configurations. Of course, you could store other things, too, in the pockets besides cardstock.
Read more about my craft room organization.