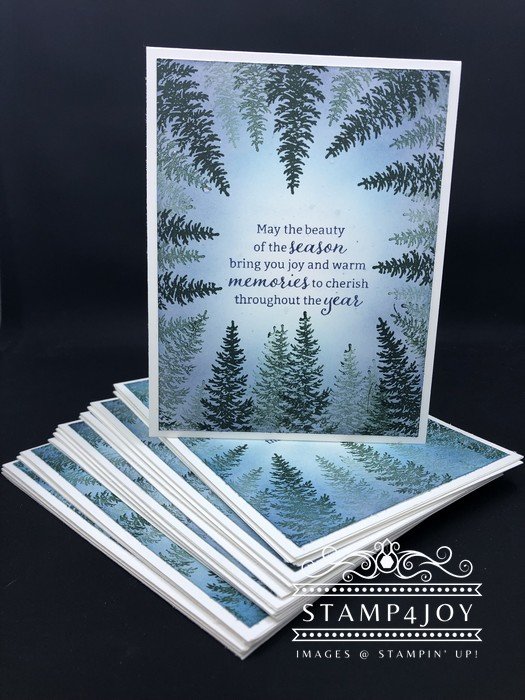 This past weekend I made a bunch of simple holiday cards. I like to get my cards in the mail right before Thanksgiving so they arrive shortly after. However, this year I am quite a ways behind. So I decided to come up with some easy Xmas card ideas that I could quickly duplicate in assembly line fashion. Here's the design I came up with. I love it!
After making my initial prototype, I think it took me maybe about three hours to complete the additional 16 cards (including washing my hands a few times to remove excess ink!). And can you believe it? It only took me TWELVE SHEETS OF CARDSTOCK to make those 16 cards!
This thrifty Christmas card design has two layers, but you could easily make it with just the card base to make it even less expensive (about 15 cents per card!). Plus you won't need extra postage for mailing because it doesn't include any bulky items.
How I Made These Simple Holiday Cards
Everything was done in an assembly line fashion:
I cut out and scored the card bases.
The top layers of cardstock were then cut out 1/4″ narrower than the card base.
I stamped the greeting in the center in Night of Navy ink. Using the Stamparatus helped to get these done quickly without worrying about placement. Once I had it in the right spot, I just replaced the cardstock piece in the corner of the Stamparatus, re-inked, and stamped again. They were completed so quickly!
Using some Blending Brushes I applied three shades of blue ink to create the sky. I began with the lighter color and kept each successive darker color closer to the edges: Balmy Blue, Pacific Point, Night of Navy.
Then I stamped the larger tree from Evergreen Elegance in Evening Evergreen ink around the edges of the card, stamping off three times before reinking. This is a fantastic way to give visual dimension to simple holiday cards, especially when stamping things like trees.
I glued the top layers to the card bases, and then I was done!
If you need a little more inspiration, here are some more Christmas card ideas.