Here's something you may not know about me:   I am a Certified Intermediate Designer for Copic marker pens.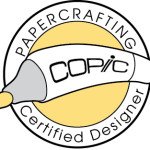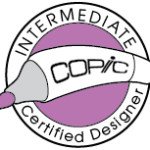 Once Stampin' Up! releases their own alcohol markers, Blendabilities, I will be prohibited from talking about Copic markers, so I thought I'd do a review here for you now.
For those of you who are die-hard Copic marker users, the best place I've found for ordering them is Carpe Diem Store.  For instance, the Sketch Markers are listed there at $5.24, but here's a secret:  When you go into your cart the price is reduced to $4.85!  And I think they offer free shipping if your order is over $50 of qualified merchandise.  Very cool!
So now for the product review.
I only ordered a couple of the Blendabilities color collections from the upcoming Stampin' Up! catalog because I wasn't sure I would like them, and I didn't want to invest much money before trying them out.  In the flower card on the right I just used the Daffodil Delight markers.  It also features the retiring Secret Garden framelits with the coordinating stamp set.  They're only available for one more week!
Alcohol markers allow you to blend beautifully for a more realistic look.  You can use them on just about ANYTHING — think custom-colored rhinestones or pearls, ribbon, and more!
CONS OF THE BLENDABILITIES:
There's not a large selection of colors.  The Blendabilities (when released) will come in 12 color collections, with three markers in each collection, for a total of 36 colors.  There are currently 358 colors of Copic markers!
The Blendabilities are not refillable.
If you ruin the nib, the whole marker is ruined because you can't replace the nibs.
PROS OF THE BLENDABILITIES:
There's not a large selection of colors.  Yep, this could be a pro, too.  Having 358 colors, some of them closely matched, can be overwhelming for some people.
Each of the Blendabilities color collections come with three different shades that work well together, so you don't have to worry about how much gray or red or blue is in the color and whether they'll blend well together — the work is done for you!
Initially, the Blendabilities will be a little less expensive for you… yep, even including s&h.  Our sales tax in my area is 9.9%, and so I pay about $4.80 per marker with s&h and tax.  If your tax rate is lower than mine (isn't everyone's???) you'll pay less.
The color collections coordinate with the SU! colors for seamless color matching — of course!
Blendabilities are a good way to try out alcohol markers without investing a lot of money.   Plus, you have me to answer your questions and help you learn to use them, too!  🙂
They do take a little bit of practice, but I'm here for you!
Contact me to schedule a class for you and your friends
to learn how to use the Blendabilities alcohol markers!