One New Years Resolution You Can Actually Keep!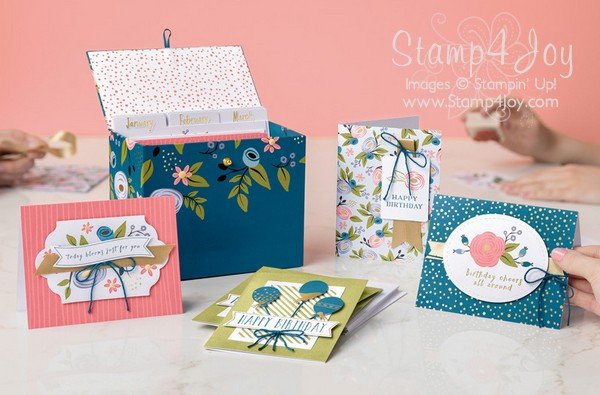 How about making a New Years resolution that you can actually keep!
Are you tired of making resolutions every year, only to have them fall by the wayside by February?  Well, how about making a paper crafting New Years resolution you can actually keep?
We all need birthday cards and, if you love paper crafting like I do, a store-bought card just won't cut it!  You can pick up the Perennial Birthday Project Kit from the new Occasions Catalog, and with the Perennial Birthday Stamp Set (wood-mount and clear-mount) and a few accessories you'll have an adorable box full of beautiful handmade birthday cards in no time, for just a little over $3 a card!
But that's not all!  Depending on whether you purchase the wood-mounted or clear-mounted set, you'll be very close, if not over, the $50 amount needed to pick up a free item from the incredible selections you'll find in the Sale-A-Bration Catalog!
Better yet, if you live in western Washington you can save even more money by scheduling this class in your own home.  You and your friends can pre-order the Perennial Birthday Project Kit and I'll bring the Perennial Birthday Stamp Set and all the other supplies needed, and we all can complete the kit in just a few hours.  You'll have fun stamping with your friends, and after all is said and done you'll have all the birthday cards you'll need for the year done — or at least a big had start! — for less than $2 a card!  You really can't do better than that!
Watch the video below to check out this super cute kit, and then Contact Me to schedule your in-home party or go to my Online Store to place your order and get started on (and complete) your New Years resolution before the month is done!
And don't forget, you can receive ONE FREE ITEM for every $50 or $100 you spend!