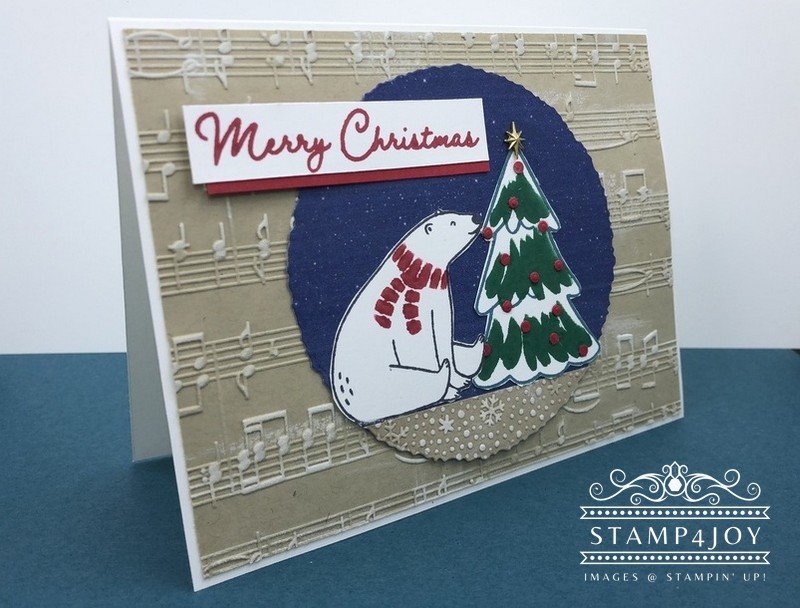 Send merry Christmas wishes with this handmade card design that's sure to please. 
Hello, fellow paper crafting enthusiasts!  Today I'm excited to show you a Christmas card idea that's filled with the spirit of the season.
The highlight of this handmade card design is its wonderful 3D texture.  This was achieved using two charming embossing folders:  Merry Melody and Snowflake Sky.
As you run your fingers over it you can feel the raised musical notes and delicate snowflakes, adding a special touch of holiday magic.  I added some craft white ink to highlight the raised music score and the snowflakes.
Of course  the stars are the sweet little bear wearing a cozy red scarf and the beautifully decorated Christmas tree.  I stamped these elements and then hand-cut them using my trusty Paper Snips.  It may take a bit of time, but the end result is absolutely worth it!
Decorating the Tree
I used a die from the Magical Meadow Dies collection to create the adorable red baubles.  If you have the Saint Nicholas Dies, those will work wonderfully, too.  Of course the small star trinket that tops the tree really steals the show!
To complete this charming scene I chose a serene night sky background that was taken from one of the patterns from the Beary Christmas 12″ x 12″ Designer Paper collection.  It adds a touch of wonder, as if our bear and tree are gazing up at the starry heavens, ready to share the joy of the season.
This merry Christmas wishes card design is a heartfelt expression of holiday cheer that you can share with your loved ones.  I'm confident it will bring smiles and warmth to the hearts of those who receive it.  Happy crafting!