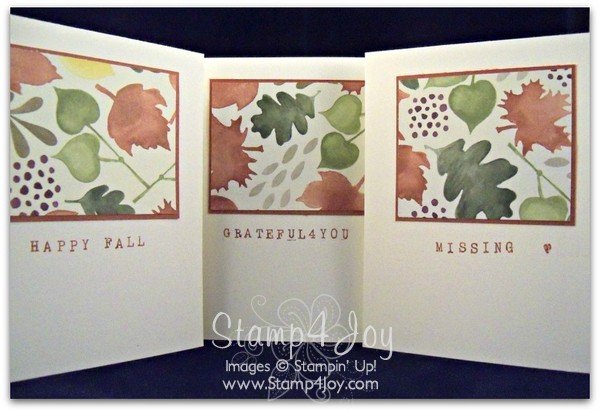 Do you ever have a time when you're making greeting cards and you want a word or a phrase that you don't have a rubber stamp for?  This actually happens to me a lot.
You could print it on the computer.  You could get a personalized rubber stamp made up with the word or phrase, but maybe it's not something you'd use a lot, and you'd have to get a separate stamp each time — and that's certainly not going to help you right now!
The Alphabet Rotary Stamp is just what I've been looking for!  Using just this one stamp you can create personalized words, phrases, names, etc.  I love it!  (The fall cards above also features the beautiful Color Me Autumn Designer Paper.)
TIP:  To use this stamp you'll want to ink it up with your Stampin' Write Markers, not an ink pad.  And I know I've told you never to rock your stamps, but this is one you'll want to rock a little, front to back, to get a good image.
If you're a fussy perfectionist this may not be the stamp for you.  But if you're okay with the letters and characters not being lined up just perfectly — that IS a style and adds character and can add whimsy to your projects — you just might love it!
How much would kids love this stamp?  They could use it to stamp their name on everything! You can use the Stazon Ink Pad to stamp on nonporous surfaces like plastic.
And the best part?  From now until Monday you can save 25% on it because it's one of this week's Weekly Deals!
See the other Weekly Deals below!