You can make unique Christmas cards pretty inexpensively with paper scraps you probably already have on hand!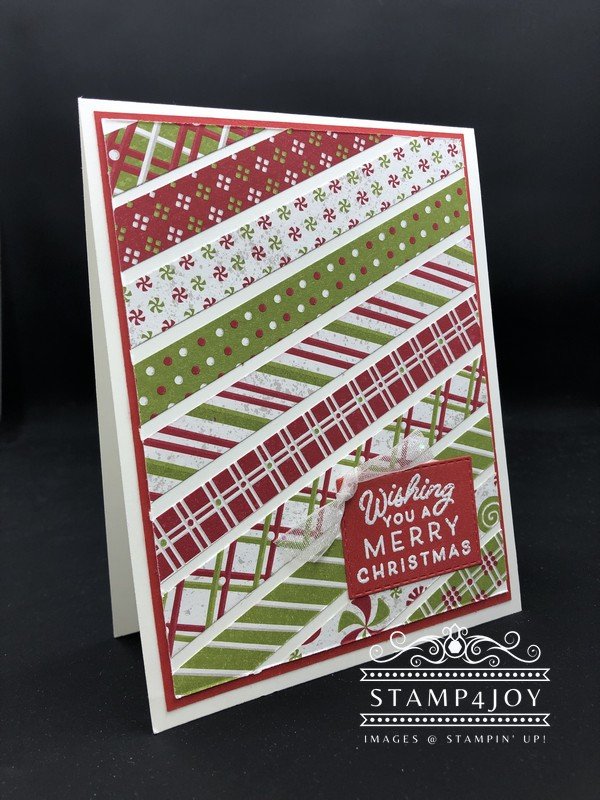 If you're like me, you have just a few 😉 scraps of various designer papers left over when you've completed your projects. Don't throw them away! Cut them into strips to create an original, one-of-a-kind holiday card. Of course you can use new paper, you don't have to use scraps, but if you already have them why not?
You can cut them any size you want. The larger the size the quicker your project will come together. For this handmade card I cut the strips at 1/2″ each from the Gingerbread & Peppermint 6″x6″ Designer Paper collection, and then angled them across a layer of Basic White Cardstock, doing my best to space them evenly apart.
HINT: Use the Silicone Craft Sheet and you won't have to worry about adhesive being where you don't want it.
It was hard to know exactly how far to apply the glue, since each strip will be a different length on the front of the card, so I just used my Silicone Craft Sheet underneath my project and didn't have to worry about it. It's great for keeping your work surface sticky-free. 🙂
Finishing Your Card
Once your strips dry you can cut the edges off with your Paper Snips, or you can use your Paper Trimmer to cut them off like I did. Then I layered the festive piece on some Real Red Cardstock, and then centered that over the white card base.

The card sentiment came from the Frosted Gingerbread stamp set. I embossed it in white over red cardstock and then cut it out with my die cutting machine using a framelit from the Stitched Rectangle Dies.

For a little extra something I tied a knot in a strip of the White 3/8″ Glittered Organdy Ribbon. This ribbon is really pretty with the subtle sparkle of the little dots. There's even a touch of red in it!

You can also make unique Christmas cards starting out with a card sketch. Why not create Christmas cards like this one?