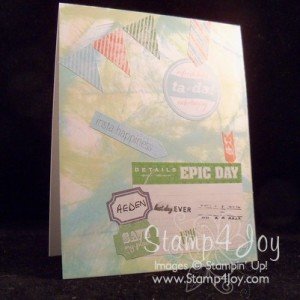 Isn't this the worst handmade card ever?  I have to laugh even as I write this.
I had the best of intentions when I started, and thought it was a clever idea.  My nephew and his wife are expecting their firstborn — Aeden– in about a month, and the idea for this card was to commemorate his birth.   A great idea, right?
Well, it all went terribly wrong when I decided to use a direct-to-paper background I made a few days ago as the base.  Bad idea!  The background would have been lovely in any number of OTHER card designs, but went sideways here.
So, too, would the Epic Day This and That Designer Stickers.  They would have worked beautifully on another background, but the combination of the two is horrible.   Believe me, the picture doesn't do it justice, it's awful!  I even smeared the ink from the Remember This and That Rotary Stamp… which is TOO COOL, by the way!


Please don't hold this card against me… sometimes I do know what I'm doing, I promise.  🙂  I will re-do this card in a more pleasing version.  And don't hold this card against the new Epic Day This and That Bundle, which you can get with a 15% discount if you order by April 30th.