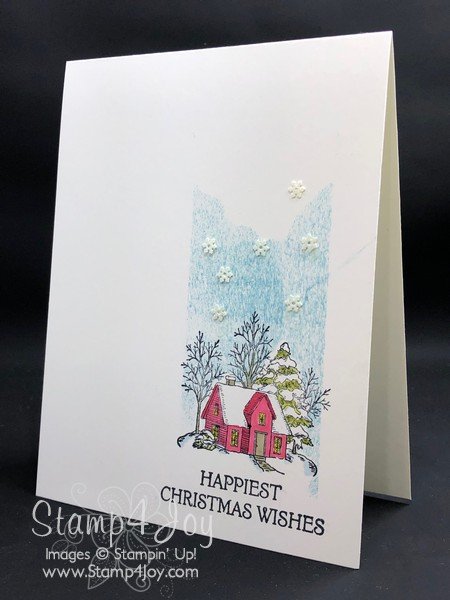 Make some inexpensive holiday cards this year. This one-layer card features the new Still Scenes stamp set, which will be available for purchase Wednesday, September 4th. Isn't it lovely? You can pick it up along or in the Still Scenes Bundle, which includes the coordinating dies.
I think these would make fabulous real estate holiday cards to give to clients, don't you? In fact, I could make up a batch of them if you know anyone who would like to purchase some. Just have them contact me at Rebecca@Stamp4Joy.com.
I wanted a smaller greeting so I used one from Dashing Deer, but you could use any appropriate card sentiment you have on hand.
After stamping and coloring in the image with an assortment of Stampin' Blends, I masked it off to create the sky background by stamping the image again on scrap computer paper and cutting it out. I only cut around the house, ground, and the large tree on the right. I cut off the bare trees so the blue could show through the branches.
Placing my mask over the house and some straight-edge masks along the sides, I then applied some Balmy Blue Ink using a Sponge Brayer. If you don't have that you could just apply the ink with a wedge of a Stamping Sponge. I added a few of the delicate Snowflake Sequins to complete the classic Christmas card winter scene.
Click here to see another fun holiday card idea from seven years ago!
Products Used For This Card
All the products you'll need to create these inexpensive holiday cards are found below. Just click on the photo for more information.
Product List