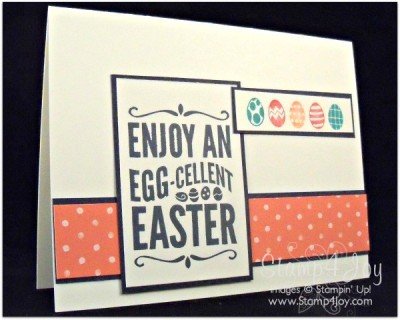 Make Happy Easter cards with the adorable stamp set, For Peeps' Sake.
I grabbed a strip of patterned paper from the Birthday Bash Specialty Designer Paper collection, and my color scheme followed from there.  Night of Navy was used to stamp the greeting and to tie all the pieces together.  The egg colors are Bermuda Bay, Rose Red, and Calypso Coral.
Be sure you lay out all your pieces right before gluing them on.  I didn't and glued on the patterned piece too low.  By the time I realized I had done that it was too late to reposition, so the rest of the pieces are too low, too.  Ugh!  Don't make the same mistake!
This card started with the card sketch from i Love Card Sketches, and if you lay it out right you should be fine!  LOL!  Give it a try.