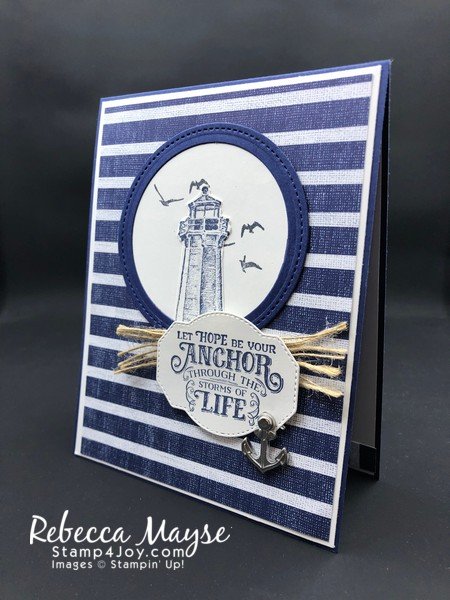 I find myself in need of another handmade condolence card. For simplicity I decided to start with a card layout from one of the January to June 2020 Mini Catalog project samples.
You may not realize this, but the Stampin' Up! catalogs are so much more than just catalogs to purchase rubber stamping products from. They are full of creative ideas you can copy or use as a jumping-off point for your own designs!
Give it a try! Select a card layout you like in one of our catalogs. For this homemade sympathy card I began with the card design in the upper right corner on Page 22 of the January to June 2020 Mini Catalog. You can see it on the top right in the photo to the left.
Once you decide on the layout, you then have a few options:
repeat it exactly as is with the same stamps, paper, and accessories;
repeat the card layout as is, but use other stamps and/or paper and/or accessories;
repeat the card layout as in the option above, but change it all up using different shapes, too!
Since I wanted to make a handmade condolence card I decided to use a few items from the Sail Away Bundle. You can use this bundle for a variety of creative card designs and other projects. I kept the basic parts of the layout, but just changed up the shape of the card sentiment.
I like the look of the frayed Burlap Ribbon peeking out from behind the greeting. It's easy to do, and I just laid down a few short strips of Tear & Tape Adhesive to press it on to hold in place. That stuff is strong! 🙂
I made a small hole along the right bottom edge of the greeting and attached the anchor from the Sail Away Trinkets with a Metallic Brad.
For an extra touch I took a piece of the striped pattern and trimmed the bottom of the inside white layer.
For more inspiration, check out this mini travel journal album I made using elements from the Come Sail Away Suite Bundle.