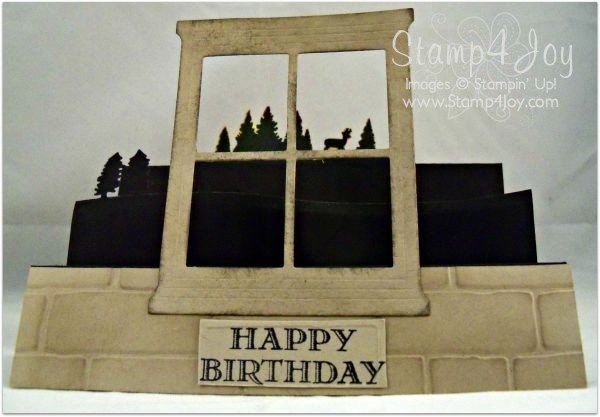 I always need new handmade birthday card ideas… the birthdays just keep coming!  How about you?
Here's a birthday card for my sister… I think she's going to love it.  And I used some stamps and other things from the Holiday Catalog to make it.  Remember, just because something is "for Christmas" doesn't mean you can't think outside the box and use it for something else.
I thought the window from Hearth & Home Thinlits Dies (139666) would work well on a stair step card, looking out over a silouette of the valley.  I added some brick along the bottom of the inside of the house 🙂 and added a bit of sponging on both of them.
The trees on the left were cut out in Basic Black using the fabulous Sleigh Ride Edgelits Dies (139670).  And the scene along the top ridge is from the To You & Yours Too stamp set (139819).  I stamped it in black and cut it out.  I then sponged around the edges in Crushed Curry and Rose Red ink to give it a bit of a sunset glow.  It may be hard to see in the picture.  Oh, and the birthday greeting came from Guy Greetings.
Of course, I think this would make an awesome handmade Christmas card, too!
So, how did I do?
The Holiday Catalog begins September 1st.  Do you have one yet?  If you'd like one and you plan to purchase from me, let me know and I'll get one right out to you.  Please include your phone number when requesting a catalog.