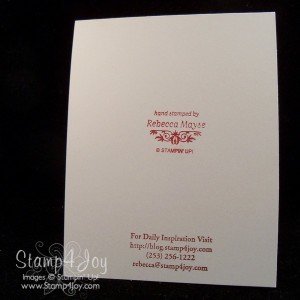 You work hard creating beautiful hand stamped cards, so why not identify yourself as the artist on the back of them.?
Stampin' Up! sells a number of different style name stamps, from one to four lines, you can use for the backs.  The one I used in the middle of the back is called Flourish (115600).  All the name stamps can be found on page 146 of the current Stampin' Up! catalog.
There are also stamps  thatcan be used for name and address stamps or to put your favorite quote on it to stamp over and over again.  The bottom stamp pictured has my contact information.  For that I used a four line text-only stamp (115582).  You can always click on the photos for a closer view.
If you plan to sell your works of art at upcoming craft fairs, you will need to have a Stampin' Up! approved Angel stamp somewhere on it.  The Flourish "Hand Stamped By" stamp featured in the middle here works for that.