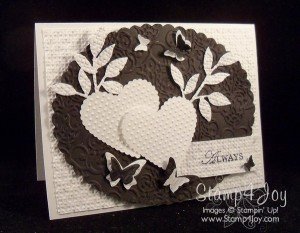 I wanted to make some hand made wedding cards, and began with the idea of making them all white.  As I was designing this card, though, I decided to make the oval in black to offset the elements more, and the rest just followed after that.  I feel it could use some ribbon, but I'm not sure I can fit it on nicely without overpowering the rest of the design.  What do you think?
I apologize for the quality of the picture.  If I ever actually learn how to use a camera, look out!  I am not happy with my photography skills lately… I blame the camera.  LOL!
The highlight in the design of this wedding card was of course the Big Shot, which I used to cut out all the elements and create the variety of texture.  Believe me, this card is much prettier in person!
This design could also be used to make Valentine cards.  I bet it would be stunning in red and white!  The elements from this card would also work well in a wedding memory book, don't you think?
Other supplies I used: