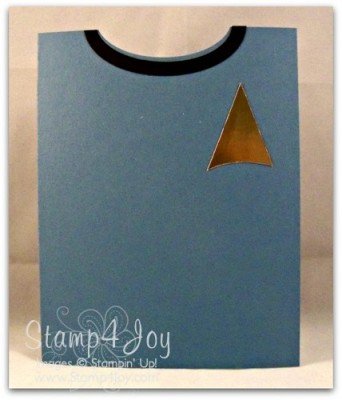 Are you searching for ideas for funny Valentine cards? Well, if there's a Star Trek fan in your life, this just might be what you're looking for! Especially if they're a fan of the original.
I created a simple card front to replicate the science uniform that Spock wore. I used Marina Mist card stock for the blue, and Basic Black card stock for the collar. The Ovals Collection Framelits helped me to cut out the collar.
The communicator was made from a scrap piece of Brushed Gold card stock, which I cut in a triangle and
then used the edge of a circle punch to give it the curved bottom.
But the real jewel is on the inside… "You had me at Pon Farr"!
Don't get it? Ask your favorite Trekker!