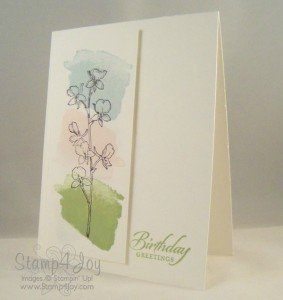 It doesn't require a lot of fancy tools and accessories to make beautiful and easy handmade cards.
Today's simple birthday card uses images from Happy Watercolor (w-133188/c-133191) featured in the 2014 Occasions Catalog.  Everything you'll need is in this wonderful set, including a few greetings, although for this card I pulled the birthday greeting from Wetlands (w-126695/c-126697).
The bold image appears to be a watercolor wash painted across the lined floral image, but it's really just stamped in different colors of ink.   A simple way to achieve a watercolor look without even using a brush… or water!  I love the look, and with this stamp set you can effortlessly create handmade cards that LOOK like you watercolored them.
You can click on the photo for a closer look.
Are you interested in creating elaborate or easy handmade cards?
Leave your response in the Comments section below.