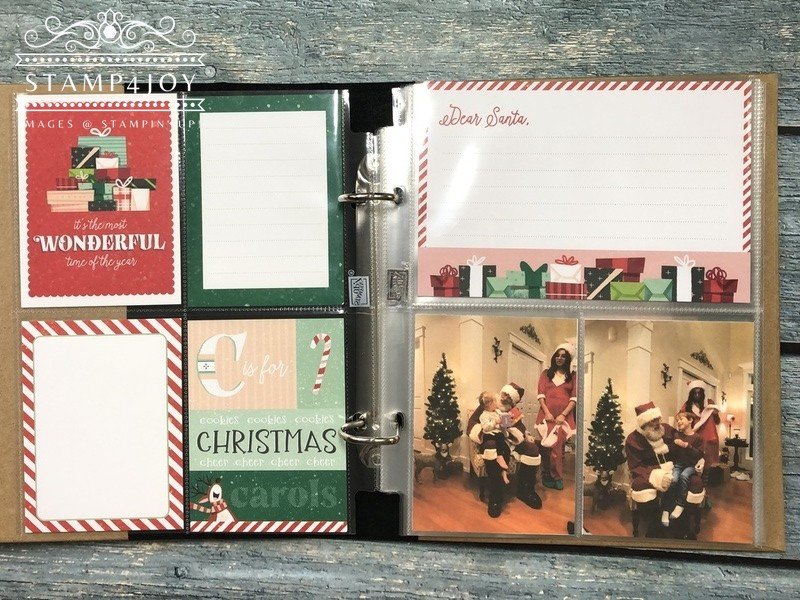 You can design easy Christmas scrapbook pages with the Santa Express Memories & More Card Pack.  When you combine them with our 6″ x 8″ Album and the variety pack of Photo Pocket Pages even beginners can quickly whip out some fantastic scrapbook layouts.
I borrowed a few photographs of my niece's kids visiting with Santa to create this sample layout.  Then I just added a few cards from the pack.  I love how they all coordinate in color and theme (note the red and white stripes throughout).  Some of the cards are fine as they are, some are open for journaling your thoughts of the day or as a mat for other photographs.  I think the "C is for…" card would be awesome cut into sections and used maybe on a 6″ x 8″ page with other cards and photos!  And I can just imagine having one of the children write on the "Dear Santa" card… "How much time have you got?"  LOL!
Easy Scrapbooks
Smaller scrapbook albums are the perfect size for me.  I personally like designing in two-page spreads, and having two 12″ x 12″ pages staring at me can sometimes seem daunting and time-consuming!  With the smaller page sizes you can focus on less photos and elements per layout if you want to.  You'll be able to create an album for an entire event or occasion in no time at all.  Design Christmas scrapbook pages for a Christmas 2022 album.  You can memorialize your summer in a Vacation 2022 album.  Or how about dedicating one album to each child or grandchild covering the prior year.  What a great gift that would be!
I also love mini albums.  Here's a mini album travel journal I made a few years ago.  It also used a Memories & More Card Pack!
You Can Make Cards, Too
Card Packs aren't JUST for scrapbooking, though.  You can also make some quick homemade cards with them.  In my next newsletter I'll show some holiday cards I made with the Santa Express Memories & More Card Pack combined with the Santa Express Memories & More Cards & Envelopes.  You can make at least 20 cards with envelopes for less than $1.40 each and still have lots of Christmas scrapbook supplies left over.  You just can't beat that price! 
If you're not on my mailing list just use the form below to sign up.  You'll even receive a free PDF card tutorial for your effort!