In today's post of Card Making Tips and Techniques we will be talking about Blender Pens.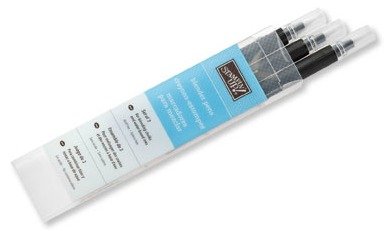 If you have these pens then you know how convenient and easy they are to use for creating a watercolor look.  If you haven't used them and are wondering how to watercolor simply, these pens are for you. I love them!  However, once they've dried up what do you do?  Well, don't throw them away!
Get double-duty from those dried-up pens! They're great to use with the bleach technique. Just dip the tip into some fresh bleach and brush it where you want it on your card stock.  Depending on the color of card stock and how much bleach you apply, a lighter shade or even a different color will be revealed.  You can come up with some beautiful and interesting effects by doing this.  Be sure to do this in a well-ventilated area.
The bleach can be rough on bristles of a brush, which is I love using my dried-up pens for this instead of just throwing them away!  Be sure to wrap the pen with something so you'll know which one to use. Washi tape works great for this!
Haven't used Blender Pens yet?  Here's a little more info:
You get three pens when you order, so they'll last a long time.  They are dual-tipped and filled with a specialized solution to blend ink easily.  They work best on Watercolor Paper or Shimmery White Card Stock with our Classic Stampin' Ink.  They are acid free, xylene free, and nontoxic.
I clean off the tips by rubbing it a couple of times on scrap paper, then across my Stampin' Cleanup Pad which I've spritzed with Stampin' Mist, and then on scrap paper again.  Then I can switch to a different color with no problem!
And again, once my Blender Pens have dried up I use them for bleaching!
I hope you'll find this post of Card Making Tips and Techniques helpful.  Have a great weekend!