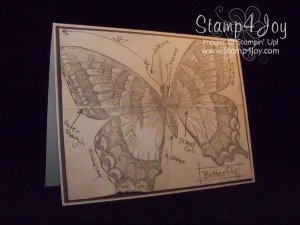 Old nature book drawings were my inspiration for these butterfly cards.  The large image of the Swallowtail stamp (wood-129213 / clear-129216) fills up the front of the card nicely.  I stamped it in Early Espresso, and then I used the Early Espresso Stampin' Write Marker (119680) to draw and write in all the "nature book" elements.  I folded it a few times in different directions to give the appearance of having been tucked away in a book for years.
You can click on the image for a closer look.
To give it more of an aged and distressed look I took one of the Designer Sanding Blocks (124304) to roughen up the edges and folds and to rub out some of the image and writing.  This is one time where it's okay if your image doesn't come out completely perfect when you stamp it! 🙂  I also sponged along some edges and folds to "dirty" it up a bit.
What do you think?
So versatile, Swallowtail is available in the Stampin' Up! Spring Catalog until the end of May.