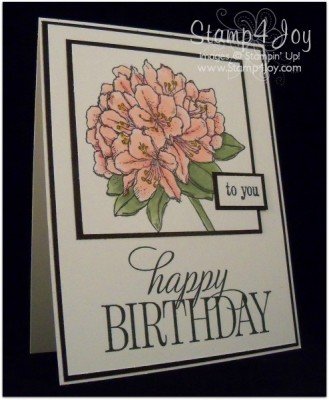 Grab the new Hostess set Happy Birthday, Everyone and your birthday card making will be a whole lot easier.  With friends, men, and women included, it's got you covered!  And I love the font and size of the big Happy Birthday stamp, too.
I used the flower from Best Thoughts, another gorgeous set!  I pulled out my alcohol markers to color in the image.
You can spend your Hostess Dollars on Hostess stamp sets or on anything else in any current Stampin' Up! catalog when you have a party or make a purchase of $150 or more.  And catalog parties count, too!  Whether you stock up on supplies for yourself or you collect orders from your friends, it doesn't matter, you still qualify for Hostess Dollars when you top the $150 mark.
You can contact me if you'd like to have a party or class in your home or would like to collect orders for a catalog show.  If you'd like to just order for yourself, you can shop my Online Store 24/7.  Feel free to contact me first if you have any questions.
This card design started with the card sketch at i Love Card Sketches.  I'm a little late since, as you heard yesterday, I had computer problems.  And now my video camera went kaput!  Ugh!  When it rains it pours.  Hopefully that will be the end of my bad luck! 🙂
I hope you're all having a better week than I am!